Congratulations to Doug and Judy Parker, Williams, Calif., on being honored with the 2021 Commercial Producer of the Year Award!
Award Applications
Carcass of Merit Program
katier916
2023-08-11T11:55:21-07:00
The commercial beef industry's emphasis on value-based marketing has improved quality of beef products and increased consumer demand. This increased attention to beef carcass traits is recognized by the California Beef Cattle Improvement Association's (CBCIA) Carcass of Merit and Gold Seal Program.
For a number of years, CBCIA has recognized outstanding beef carcasses from youth livestock shows throughout California. To qualify for one of the awards a carcass must meet or exceed certain standards for weight and quality and yield grade.
To read about the new carcass contest criteria, click here.
For criteria and instructions in participating in this program, click here.
To see the 2023 County Fair – Beef Pricing Grid, click here.
To download award certificates, see below.
Producer Awards (Now accepting 2022 Seedstock Producer of the Year Award applications!)
katier916
2022-09-06T11:00:45-07:00
CBCIA Junior Producer Award
This contest is designed to showcase what young producers are doing at home, and their future goals in the beef industry. 
CBCIA Outstanding Seedstock and Commercial Producer of the Year Awards
Each year, CBCIA accepts applications for the CBCIA Outstanding Seedstock and Commercial Producer of the Year Awards. These awards recognize progressive beef cattle breeders who use practical, scientifically accepted selection and management methods and integrate them into successful ranching operations. Examples include, but are not limited to, genetic and breeding strategies for traits of economic importance, feed development and utilization, nutritional management and marketing based on objective measurement of performance. Awardees will be honored at appropriate CCA and CBCIA sponsored events and are eligible to be nominated (by CBCIA) for the National Beef Improvement Federation (BIF) awards
The award rotates between honoring a producer or commercial producer each year. For 2022, CBCIA will honor an outstanding seedstock operation. Click here to download the application. Applications are due Oct. 1. 
CBCIA Producer of the Year Award Winners
Congratulations to Doug and Judy Parker, Williams, Calif., on being honored with the 2021 Commercial Producer of the Year Award!
Seedstock
Commercial
1972
John Crowe*
1973
Bill Borror
J.F. Sexton
1974
Bert Crane
Gene Rambo
1975
Walter Markham
Oscar Burroughs
1976
Jackie Davis
Milton Mallery
1983
Bill Borror*
John Spencer
1984
Jack Farmer
Boyd Mahrt
1985
Marvin Knowles
John Maino
1986
Roy McPhee
David Forster
1987
Gino Pedretti
Fred Mallory
1988
Ed Albaugh
Lauren & Mel Shuman
1989
Gerhard Gueggenberger
1990
Jack Cowley
John Hanson, Jr.
1991
Dick Montague
Bill Van Tassel
1992
Walter Hunsaker
1993
Bruce Orvis
Stan Sears
1994
Ward Burroughs
Hank Stone
1995
Bidwell Ranches
Bob Blanchard
1996
Les & Jean Fearrien
Bill Peters
1997
Abbie & Mark Nelson
Herb Holzapfel
1998
Marcus Haney
Chris Nelson
1999
Jerry Johnson
Marty Williamson
2000
Bruce Orvis
Matt Echeverria
2001
Dave Dal Porto
Clint Disch
2002
Byrd Cattle Co.
Likely Land & Cattle Co.
2003
Silveira Bros.
Prather Ranch*
2004
Vintage Angus
Jack Ranch
2005
Dismukes Ranch
Bob & Suzy Erickson
2006
Donati Ranch
Lacey Livestock
2007
Sonoma Mountain Herefords
Bengard Ranches
2008
Oakridge Angus
Hearst Ranch
2009
Circle Ranch
Duane Martin Livestock
2010
Broken Box Ranch
Leavitt Lake Ranches
2011
Bianchi Ranch
Five Dot Ranch
2012
 O'Connell Ranch
 N/A
2013
 Morrell Ranches
 Ken and Jackie McGarva
2014
 Bar R Angus
 N/A
2015
 N/A
 N/A
2016
N/A
 Bentley Ranch
2017
Toledo Ranches
N/A
2018
N/A
Schene Enterprise
2019
Bruin Ranch
N/A
 *donotes international BIF winners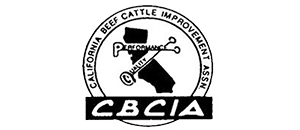 Purpose
The California Beef Cattle Improvement Association (CBCIA) is an affiliate of the Beef Improvement Federation (BIF), the California Cattlemen's Association (CCA), and partners with University of California Cooperative Extension and other California public educational institutions as technical advisors and as partners in educational programs.
CBCIA is a producer-driven organization that fosters beef cattle improvement and economic production based on information and education by encouraging various approaches including scientific breeding, herd management, nutrition, and ethical and human practices by providing diverse producer information and education programs. Board meetings are open to members and are held at the CCA convention and Midyear meeting.
Activities:
Educational seminars and workshops, including a Cattlemen's College session at the California Cattlemen's Convention, collegiate field days, and other events.
Tours of specific geographic areas of the state focusing on the cattle industry and relevant subject matter
A monthly producer column in the California Cattleman Magazine
The Horizon Award for exemplary leadership to CBCIA and the cattle industry
The Producer of the Year Award that recognizes Commercial and Seedstock producers who use practical, scientifically accepted methods and integrate them into successful ranching operations

Youth Programs:
Sets the criteria and provides the certificates for Carcass of Merit Competitions at county fairs throughout the state for young cattle exhibitors.
Facilitates the Young Producer Award recognizing outstanding beef cattle projects
Awards an annual scholarship for undergraduate and graduate students in the area of beef cattle advancement through genetics or other appropriate programs
Provides a Beef Improvement Federation Scholarship Travel Award for advanced students majoring in beef cattle production and/or genetics
Activities:
Educational seminars and workshops, including a Cattlemen's College session at the California Cattlemen's Convention, collegiate field days, and other events
Tours of specific geographic areas of the state focusing on the cattle industry and relevant subject matter
A monthly producer column in the California Cattleman magazine
The Horizon Award for exemplary leadership to CBCIA and the cattle industry
The Producer of the Year Award that recognizes commercial and seedstock producers who use practical, scientifically accepted methods and integrate them into successful ranching operations

Youth Programs:
Sets the criteria and provides the certificates for Carcass of Merit competitions at county fairs throughout the state for young cattle exhibitors
Facilitates the Young Producer Award recognizing outstanding beef cattle projects
Awards an annual scholarship for undergraduate and graduate students in the area of beef cattle advancement through genetics or other appropriate programs
Provides a Beef Improvement Federation Scholarship Travel Award for advanced students majoring in beef cattle production and/or genetics
Scenes from the 2018 CBCIA Discover Southern Oregon Tour