The California Cattlemen's Association (CCA) is has partnered with WSR Insurance Services (WSR) to assist CCA members with all their insurance needs. WSR's commitment to their customers and the cattle industry make this partnership a win-win for CCA members.
Over the years WSR has helped hundreds of CCA members with their Pasture, Range, Forage (PRF) insurance needs. With over a century of experience, WSR will continue to work to provide CCA members with insurance packages tailored to their needs in the cattle and ranching business.
Visit their website to learn more about the history of WSR Insurance Services and continue reading below to see what opportunities may exist for you as a CCA member!
FOR MORE INFORMATION CONTACT:
Kevin Hoppin, CIC at WSR at kevinh@wsrins.com or
(530) 662-9181.
LEARN MORE ABOUT THE PARTNERSHIP
What does this mean for CCA members?
katier916
2019-09-10T22:39:43-07:00
CCA members can benefit from WSR's competitive pricing and best in the industry customer service. CCA encourages members to give WSR a call today and find our what insurance packages may be suitable for their needs at the best price!
Why use WSR Insurance Services?
katier916
2019-09-10T22:28:58-07:00
With strong roots in agriculture since 1917, WSR has a proud tradition of protecting a wide variety of agri-business activities. From the changing seasons to labor force to government regulations, WSR understands the unique challenges ranchers face and works to provide the best coverage for your business.
What's available through WSR?
katier916
2019-09-10T22:34:24-07:00
Available Products:
Workers compensation
Auto liability and physical damage
Pasture, Rangeland and Forage (PRF) coverage
And more!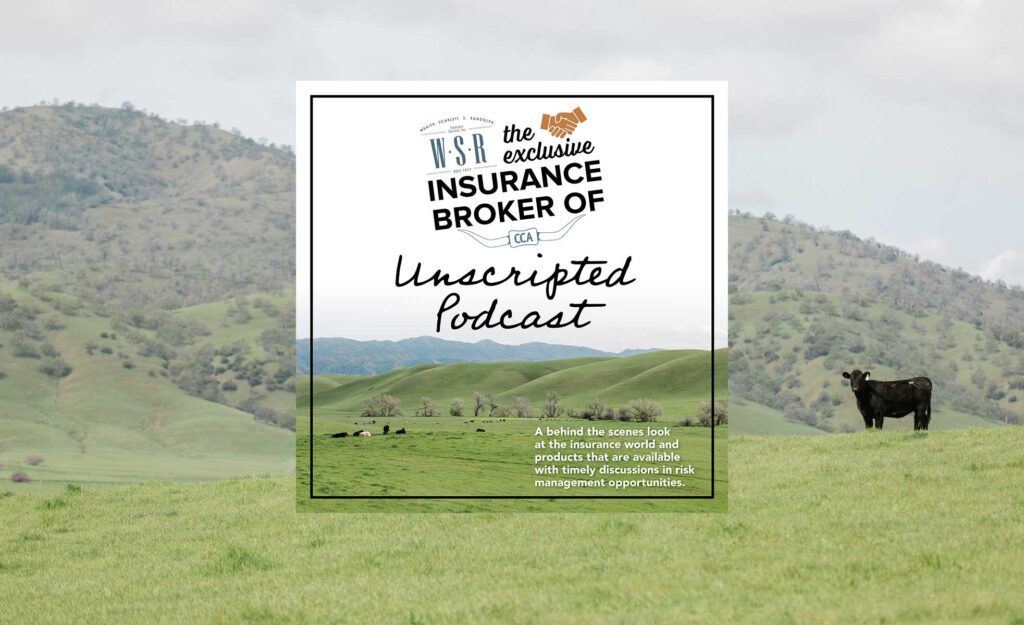 Check out WSR's podcast to stay up to date on what WSR is working on!