Get your tickets and reserve your sponsorships now for the 2023 Cattle-PAC Auction event happening in Paso Robles at Jimmy's Watering Hole at the Mid-State Fairgrounds! 
Welcome Reception @ 5:30pm
Dinner @ 6:30pm
Click on the quick links below to jump directly to the information you're looking for or scroll through this entire page.
Register for Auction Bidding Online
To register, go to www.dvauction.com. Complete and submit the form on "Create New DVAuction Account."
Click the "apply for bidding" tab in the upper left of your screen at least 24 HOURS PRIOR to the auction.
You will receive an e-mail message to activate your account. Once the account has been activiated, be sure to log back in prior to the sale to confirm your profile has been set up correctly.

Sponsorship Opportunities
Reserve your sponsorship online today or mail in the form from the sponsorship packet! Purchase your Auction + Dinner tickets and reserved tables (10 tickets) below or consider the sponsorships opportunities on page 3 of the sponsorship packet that include tickets.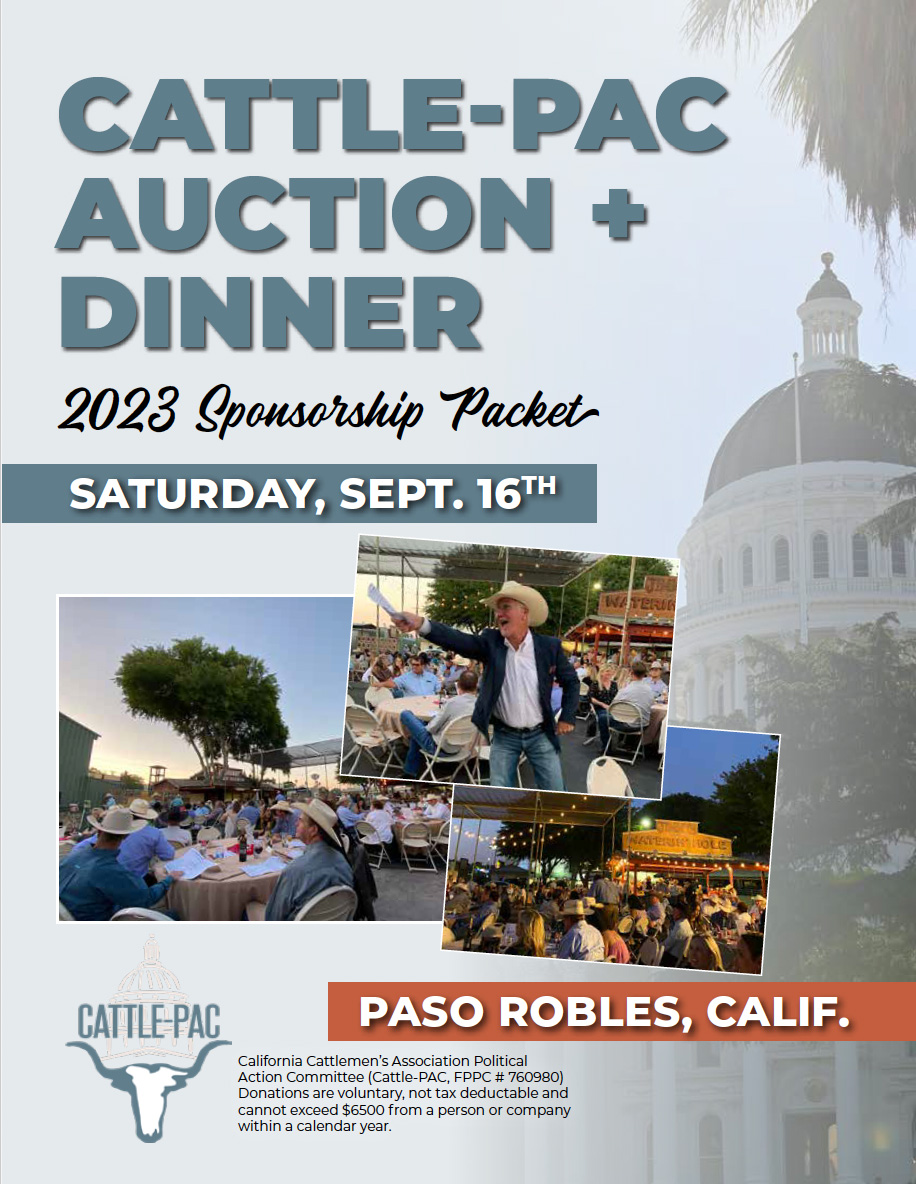 Tickets & Table Reservations
RESERVED TABLE
$1,500 for 10 tickets
Includes table in premiere location, elevated wine on table, dinner, hosted bar and entertainment
SINGLE AND COUPLES TICKETS
$100 per ticket | $175 per couple
Includes dinner, hosted bar and entertainment
CCA Room Block
SpringHill Suites Paso Robles
Atascadero 900 El Camino Real
Atascadero, California 93422
Book your room by calling the SpringHill Suites Paso Robles Atascadero at 805.462.3500 and mentioning the "California Cattlemen's Block" or by using the link below to book online.
ATV Raffle
Buy a number for $500 during the Cattle-PAC dinner on  Sept. 16th and you could win a Honda Rancher ATV! If your number is chosen, you will have the opportunity to choose 1 of 20 keys. The first key to start the ATV takes it home.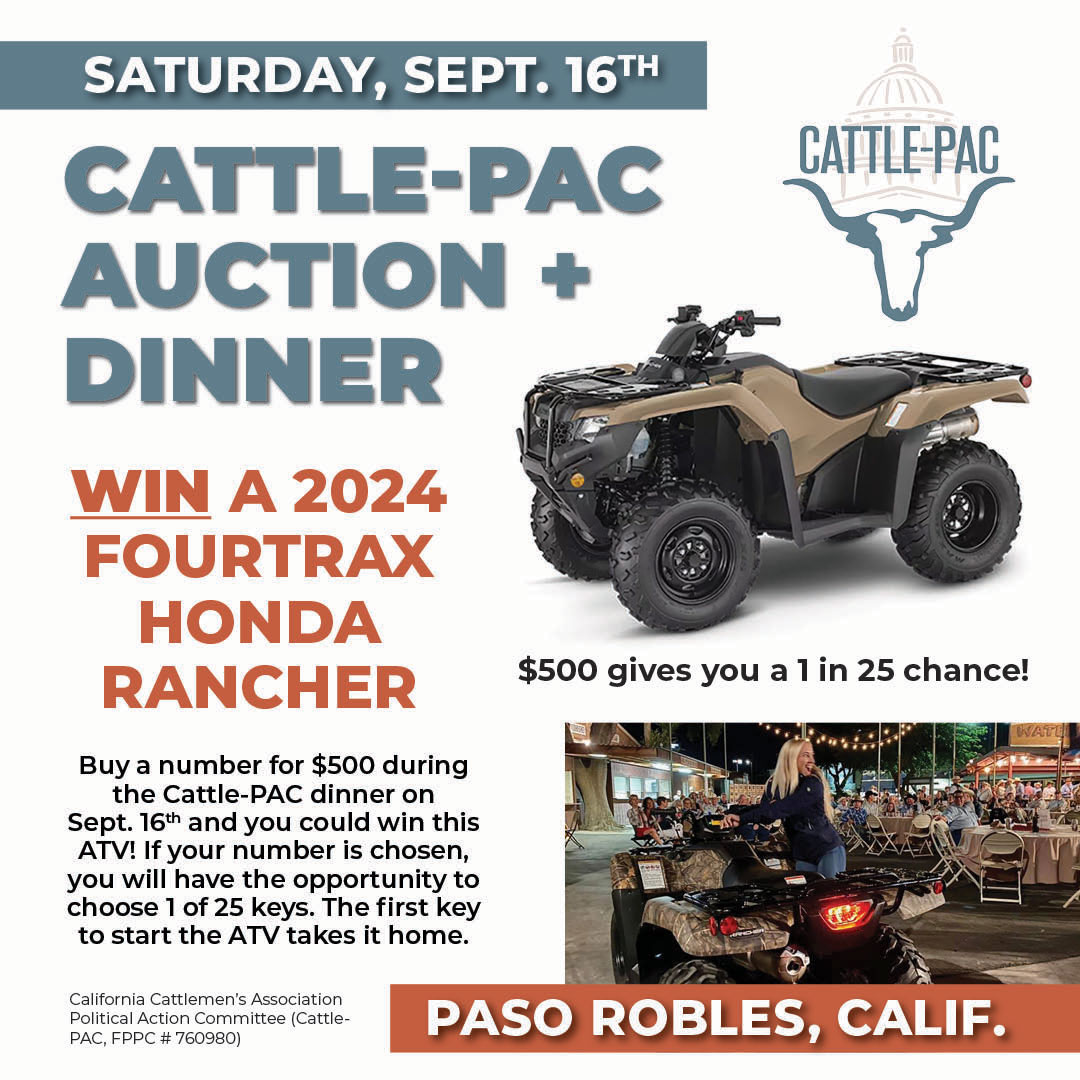 LIVE AUCTION ITEMS

Check out the live auction items that will be sold on Sept. 16th! Click here for instructions for registering for online bidding.
California Cattlemen's Association Political Action Committee (Cattle-PAC, FPPC # 760980) Donations are voluntary, not tax deductible and cannot exceed $6500 from a person or company within a calendar year.
What is Cattle-PAC?
Cattle-PAC is a voluntary political action committee working to educate political campaigns, candidates, and officeholders who make decisions that affect laws and regulations impacting ranchers in California. Every time a pro-livestock, pro-business candidate is elected in Sacramento, it is a victory for the beef industry. With your help, we will continue to secure more victories!
What to expect at the event
Check out this video to see some of the highlights from the 2021 Cattle-PAC Dinner Dance + Auction! Expect fantastic live auction items, a silent auction filled with ranching treasures, a delicious dinner, entertainment and great company.