Rick Roberti,  CCA Second Vice President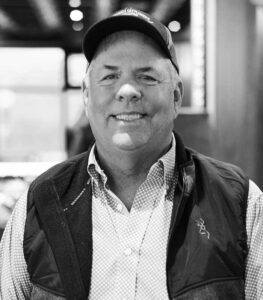 CCA's First Vice President Rick Roberti and his wife Carolyn reside on Roberti Ranch in Plumas County, which is about 35 miles due north of Truckee, California. Their son Weston works alongside his dad raising cattle on the family ranch in Sierra Valley, and daughter Katie is the director of communications for the California Cattlemen's Association.
Rick's ancestors from Switzerland settled in Sierra Valley in the late 1800s and ran dairy cattle. In 1952 Rick's dad (Elmer) bought a load of registered Angus cows, which became the base for a commercial cow/calf herd as the dairy phased out. In the 1970s the family began converting sagebrush land into alfalfa fields. Summers are a busy time on the ranch as Rick's family (including his mom, two brothers and their families) puts up hay on 15 center pivots. The native meadows that were once hayed for the dairy cows are now pastured.
The family operation has tried hard to be wildlife conscious, as the ranch is in the Pacific Flyway and its location is an important stopover for birds in the spring. Rick has overseen many wildlife habitat enhancement projects on their property.
Living in a small community, Rick has had plenty of opportunities to serve. He is currently the president of Plumas-Sierra Cattlemen's Association, and he is also on the board of the local water district. Additionally, Rick is the chairman of the Sierra Valley Resource Conservation District.
Rick went on the California Cattlemen's Association officer team in the fall of 2021. He says it is an honor to serve in this position and enjoys working on behalf of great people in an incredible industry. He looks forward to getting to know many of our members as he attends local meetings and CCA events.
Rick can be reached at (916) 444-0845.