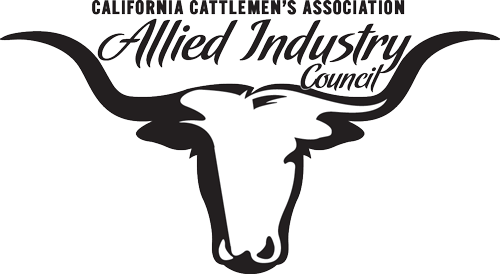 The eyes and ears of CCA
This team of officers and active members works together year-round to enhance the actions of the California Cattlemen's Association and its membership. Whether the group is planning the convention tradeshow, or an event to raise funds for CCA's scholarship fund, Allied plays a major supporting role to the organization as a whole. The members of the Allied Industry Council interact with clients who are current and prospective members. They are the "eyes" and "ears" of the organization, providing valuable feedback to the California Cattlemen's Association staff and officer team on industry trends, new products, services and more.
The help of the Allied Industry Council in helping fund projects affiliated with CCA is greatly appreciated. The time, energy and financial assistance that this groups adds to CCA and its causes are countless and since Allied's inception to CCA in the early 1990s, the people involved with the council and the companies those people represent have been essential to the success of CCA and its members.
CURRENT CHAIR
Megan Huber
Explore other CCA Affiliates