Beverly Bigger,  CCA Treasurer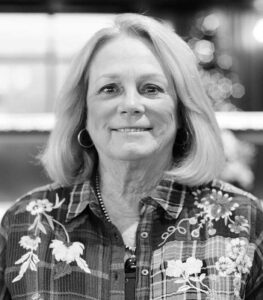 Beverly Bigger is a Ventura County Native, growing up in Santa Paula. Growing up she was a member of Mupu 4-H, however her projects were more traditional – cooking and sewing.  Her first exposure to the bovine species was when her brother, sister and daughter raised steers as 4-H projects.
She has been a cattle rancher in Ventura County since 1982 along with her partner. They boarded cattle with other ranchers until 1990 when they acquired their own lease between Ventura and Ojai. They are a small cow-calf operation, running Angus cross cattle. Beverly has been actively involved in the day-to-day operation since retirement in 2016.
Beverly's entire career has been in agriculture. She was employed by Farm Credit West for 34 years until retirement. She started in the loan documentation department, worked her way through accounting department and credit analyst, then promoted to assistant vice president.
She has been actively involved in her local cattlemen's association for many years. She served on the board of Ventura County Cattlemen's Association as treasurer for 13 years, vice president for 4 years and currently president for 7 years.
Beverly is a long-time member of California Women for Agriculture-Ventura Chapter and has served as sunshine director of the organization for over 10 years.
In 2019 Beverly was appointed as a member of the California Cattle Council, which has been a wonderful learning experience about the beef/dairy industry in our state.
Beverly can be reached at (916) 444-0845.