Sorting Pen: The California Cattleman Podcast
Episode 14: Sorting through California's 30×30 goal
In October of 2020, Governor Newsom signed an executive order to conserve 30% of California's land and coastal water by 2030. In this episode Jennifer Norris, Deputy Secretary for Biodiversity and Habitat at the California Natural Resources Agency provides an update for ranchers on this goal and explains the strategy.
In this conversation hear how:
 the 30×30 plan incorporates working with ranchers and livestock producers to reach the 30%;
 increasing voluntary conservation easements is part of the strategy;
 to find out of if any of the acres you manage are eligible to be counted in the 30%;
and more.
Learn more and see the toolkit mentioned in this episode at https://www.californianature.ca.gov/pages/resources.
Watch the Pathways to 30×30 Webinar: Pathway 3, Increasing Voluntary Conservation Easements talked about in this episode: https://www.youtube.com/watch?v=WhjhjdPqoxI.
Email your 30×30 questions to the Agency: californianature@resources.ca.gov.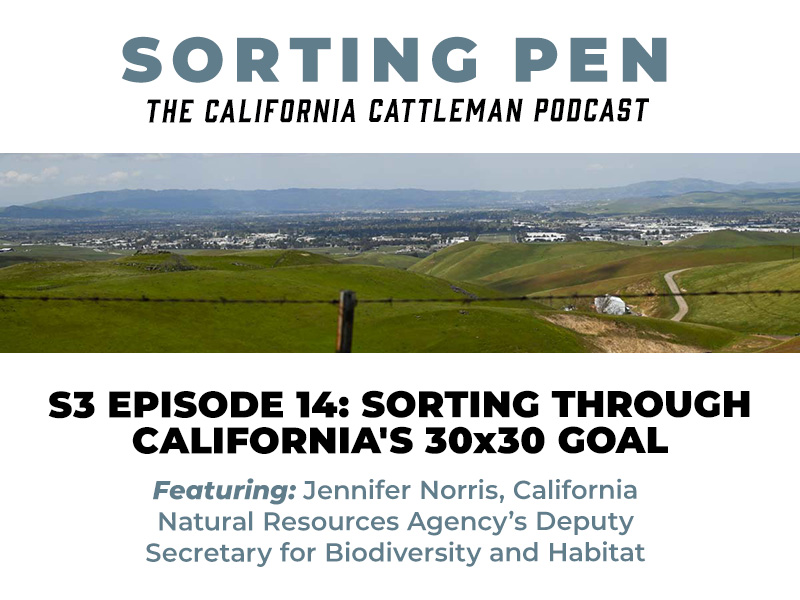 katier916
An update on movement in California and beyond
katier916
What Climate Action Plans are and why ranchers should be aware of them
katier916
An update on CCA's legislative successes and remaining priorities in 2023.
About the Podcast: Everyday, The California Cattlemen's Association is sorting through the issues impacting California's ranching families and producers. To communicate those issues, discuss solutions and keep ranchers current on the hot topics CCA leadership has developed this podcast.
In each episode we will be talking with CCA leadership and leading experts on issues specific to ranching and producing beef in California. Tune in every other Monday to hear updates on legislative and regulatory fronts in Sacramento, deep-dives into current events, challenges and more!