Sorting Pen: The California Cattleman Podcast
Episode 13: Sorting through CDFA's Ag Vision w/ Sec. Karen Ross
Secretary of the California Dept. of Food and Agriculture Karen Ross was one of the many speakers at CCA's Midyear Meeting in Paso Robles last week (June 21-22). In this episode, the Secretary shares the strategic objectives of  Ag Vision, a plan developed by CDFA for the next decade.
CDFA says, "The plan—which will guide areas of focus for CDFA and serve as a catalyst for action with farmers and ranchers, and other California agencies and partners—is being hailed as not just a plan for agriculture, but a plan to benefit every Californian."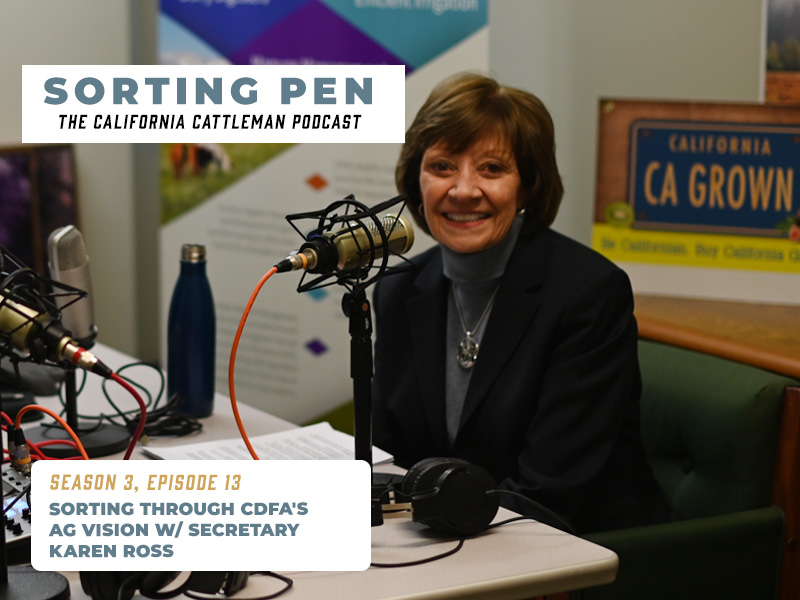 katier916
What Climate Action Plans are and why ranchers should be aware of them
katier916
An update on CCA's legislative successes and remaining priorities in 2023.
About the Podcast: Everyday, The California Cattlemen's Association is sorting through the issues impacting California's ranching families and producers. To communicate those issues, discuss solutions and keep ranchers current on the hot topics CCA leadership has developed this podcast.
In each episode we will be talking with CCA leadership and leading experts on issues specific to ranching and producing beef in California. Tune in every other Monday to hear updates on legislative and regulatory fronts in Sacramento, deep-dives into current events, challenges and more!