Sorting Pen: The California Cattleman Podcast
Episode 23: Sorting through thanking our veterans
California cattle ranchers June and Kevin Kester come on the podcast to share about some of the ways they are giving back to veterans. Hear about a recent Honor Flight trip to Washington, D.C. they were part of and how the National Cattlemen's Beef Association helped make that trip extra special for the group of veterans from California's Central Coast including Past CCA President and veteran, John Lacey.
Episode Resources:
Watch NCBA's Cattlemen to Cattlemen's Veterans Day Special
It's a Veterans Day special as we salute men and women who have served in the military and worked in agriculture. Plus, how a group of veterans were honored by NCBA on their recent trip to Washington, D.C.
Learn more about Honor Flight and getting involved at www.HonorFlight.org.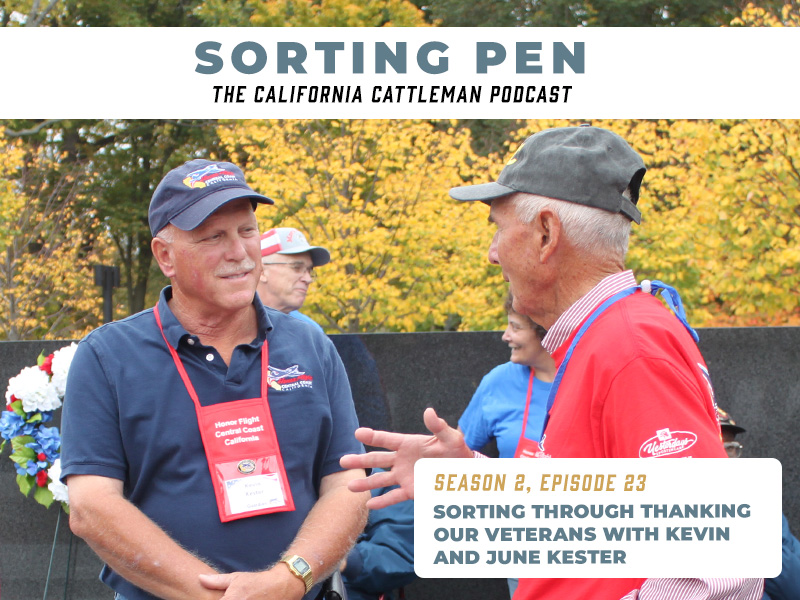 katier916
An update on movement in California and beyond
katier916
What Climate Action Plans are and why ranchers should be aware of them
katier916
An update on CCA's legislative successes and remaining priorities in 2023.
About the Podcast: Everyday, The California Cattlemen's Association is sorting through the issues impacting California's ranching families and producers. To communicate those issues, discuss solutions and keep ranchers current on the hot topics CCA leadership has developed this podcast.
In each episode we will be talking with CCA leadership and leading experts on issues specific to ranching and producing beef in California. Tune in every other Monday to hear updates on legislative and regulatory fronts in Sacramento, deep-dives into current events, challenges and more!