Sorting Pen: The California Cattleman Podcast
Episode 17: Sorting through the West Virginia v. EPA decision
The National Cattlemen's Beef Association Environmental Counsel Mary-Thomas Hart joins Katie to explain how a decision earlier this summer from the Supreme Court on West Virginia v. EPA is going to have broad impacts on how the EPA and other agencies can regulate and write administrative rules. Mary-Thomas also shares NCBA's thoughts on the Inflation Reduction Act and about some pertinent pieces in it for cattle ranchers.
Visit https://www.ncba.org/policy for more information on NCBA's policy priorities.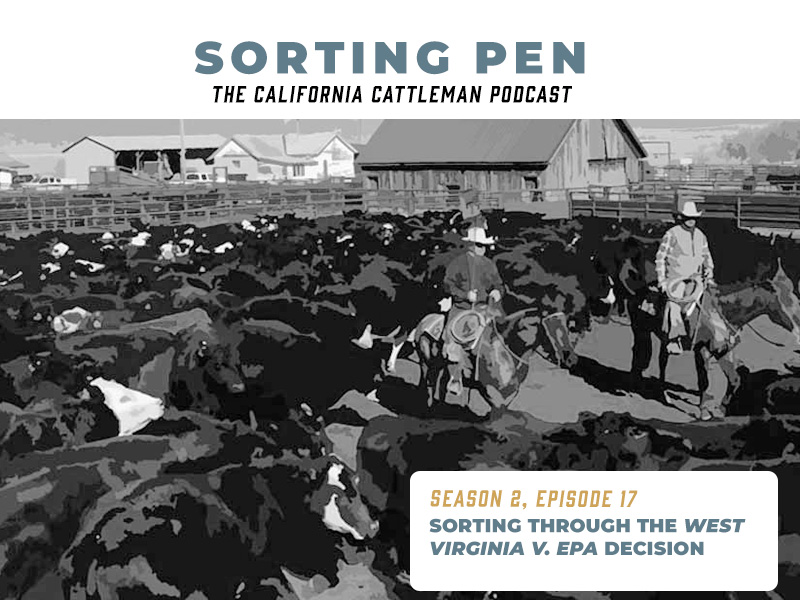 katier916
With Dr. Tina Saitone and Dr. Ken Tate
katier916
An update on movement in California and beyond
katier916
What Climate Action Plans are and why ranchers should be aware of them
About the Podcast: Everyday, The California Cattlemen's Association is sorting through the issues impacting California's ranching families and producers. To communicate those issues, discuss solutions and keep ranchers current on the hot topics CCA leadership has developed this podcast.
In each episode we will be talking with CCA leadership and leading experts on issues specific to ranching and producing beef in California. Tune in every other Monday to hear updates on legislative and regulatory fronts in Sacramento, deep-dives into current events, challenges and more!