Sorting Pen: The California Cattleman Podcast
Episode 12: Sorting through grilling, meat mythbusting & more with Hardcore Carnivore Jess Pryles
Summer grilling is here! On this episode of Sorting Pen, Jess Pryles, meat specialist and advocate, live fire cook, author and founder of Hardcore Carnivore joins us. Hear how Jess, a city girl from Melbourne, got into learning all she could about meat and why she's passionate about busting false myths about beef and other proteins. Bonus: Later in the episode, Jess shares some of her favorite grilling tips and tricks.
Episode Resources: 
Check out Jess Pryles' website to learn more: https://jesspryles.com.
The World Butchers Challenge is coming to Sacramento! Find out more: https://www.worldbutcherschallenge.com/sacramento-2022.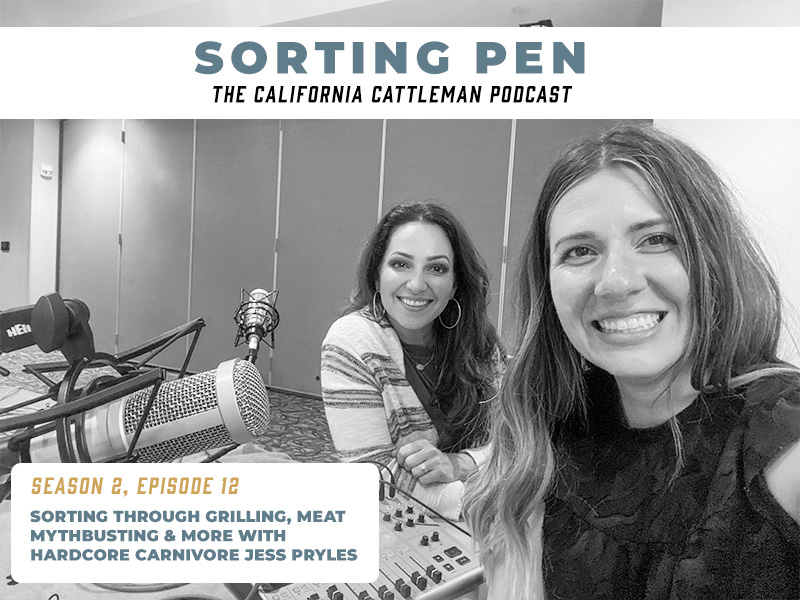 katier916
A new episode with CCA's Feeder Council Chairs
katier916
Our final legislative update of the year.
katier916
Jimmy Maxey and Mike Smith are on the podcast
About the Podcast: Everyday, The California Cattlemen's Association is sorting through the issues impacting California's ranching families and producers. To communicate those issues, discuss solutions and keep ranchers current on the hot topics CCA leadership has developed this podcast.
In each episode we will be talking with CCA leadership and leading experts on issues specific to ranching and producing beef in California. Tune in every other Monday to hear updates on legislative and regulatory fronts in Sacramento, deep-dives into current events, challenges and more!