LEGISLATIVE BULLETIN
To read the full version each week, please subscribe below.

COVID-19 Updates From Headquarters
USDA Accepting CFAP Applications
The US Department of Agriculture (USDA) is currently accepting applications for economic relief payments under the Coronavirus Food Assistance Program (CFAP) via USDA's Farm Service Agency (FSA) offices. CFAP will provide $16 billion in direct economic relief payments to farmers and ranchers suffering the market impacts of the COVID-19 pandemic, with $5.1 billion of that relief earmarked for beef producers.
How to Apply for CFAP
At this time, USDA Service Centers are open for business by phone appointment only, so ranchers should call their county FSA office to schedule an appointment. You can find contact information for your county FSA office here (click on the Northern or Southern region and then click on your county to find your county office's contact information).
USDA has posted a video guide to the application process here. First, producers will need to complete a CFAP Application (form AD-3114). USDA has released a CFAP Payment Calculator as an Excel workbook which can be used to complete the form AD-3114, at www.farmers.gov/CFAP (under the "CFAP Application" heading).
Applicants may need to complete additional paperwork to report information such as tax identification number, the operating structure of your ranch, adjusted gross income (to ensure eligibility) and direct deposit information. Those forms are also available at www.farmers.gov/CFAP.
CFAP applications and supporting materials can be submitted electronically by scanning, emailing or faxing them to your FSA office. USDA has asked that you call and make arrangements with your county FSA office prior to submitting applications electronically. USDA has established a CFAP Call Center for producers who would like additional one-on-one support with the CFAP application process, at (877) 508-8364.
CFAP applications will be accepted now through August 28, but CCA recommends that ranchers apply for relief payments without delay.
Eligible Livestock and Payment Rates
CFAP assistance is available to livestock producers who have an ownership interest in eligible livestock that have suffered a five percent-or-greater price decline as a result of the COVID-19 pandemic and face additional significant costs in marketing their inventories due to unexpected surplus and disrupted markets. A single payment for livestock will be calculated using the sum of two calculations: (1) the producer's number of livestock sold between January 15 and April 15, 2020 multiplied by the payment rates per head (below), and (2) the highest inventory number of livestock between April 16 and May 14, 2020, multiplied by the payment rate per head (below). Note: Those who sold no cattle between January 15 and April 15 are still eligible for relief payments under the second calculation but will receive no reimbursement under the first calculation. Eligibility rates for cattle are available at www.farmers.gov/CFAP/livestock.
Definitions for each category of eligible livestock—and other details regarding CFAP—can be found in the National Cattlemen's Beef Association's CFAP Background and Frequent Asked Questions document, here.
After reviewing the CFAP, CCA believes that payments under Part 2 of the program fall short of providing full, meaningful relief for California ranchers hard-hit by the economic fallout of COVID-19. CCA is working with our national affiliate the National Cattlemen's Beef Association (NCBA) to provide additional relief for America's ranchers. As previously reported in Legislative Bulletin, there are already bipartisan efforts in Congress to infuse the program with funding to provide additional relief to farmers and rancher.
Eligibility
A person or legal entity, other than a joint venture or general partnership, is ineligible for payments if the person or legal entity's average adjusted gross income (AGI) between tax years 2016-2018 is more than $900,000, unless at least 75 percent of that person or legal entity's average AGI is derived from farming, ranching or forestry-related activities. The AGI cap is waived for individuals who can certify that 75% or greater of their income is derived from agricultural production.
Payment Limits
CFAP payments are subject to a per-person and legal entity payment limitation of $250,000. This limitation applies to the total amount of CFAP payments made with respect to all eligible commodities. The total payment amount of CFAP payments attributed to an individual will be determined by accounting for the direct and indirect ownership interests of the individual in all legal entities participating in CFAP.
Unlike other FSA-administered programs, special payment limitation rules will be applied to participants that are corporations, limited liability companies and limited partnerships (corporate entities). These corporate entities may receive up to $750,000 based upon the number of shareholders (not to exceed three shareholders) who are contributing substantial labor or management with respect to the operation of the corporate entity.
Payment Disbursement
According to USDA, initial CFAP payments will be distributed "shortly after the application is approved by FSA," likely within 7-10 days. Initial payments will only cover 80% of an applicant's calculated CFAP total. To ensure that CFAP payments do not exceed the $16 billion funding limit, the remaining 20% of a producer's payment "will be paid at a later date as funds remain available."
Governor Green-Lights Counties to Open Most Retail Business, Restaurants & Places of Worship
Last week, Governor Newsom announced additional modifications to the state's "shelter in place" order that allow counties to open retail businesses for in-store shopping and permits in-person religious services to reconvene with attendance limitations. Under the latest order, restaurants can once again open their doors to the public with physical distancing measures in place designed to protect patrons.
Along with most retail businesses, the Governor also announced that barbershops and hair salons can again reopen, which marks the transition into "phase 3" of the state's 4-part plan that gradually reopens all businesses, hospitality and entertainment venues.
Although the Governor's action is subject to approval by county public health departments in all 58 counties, this latest announcement has given the go-ahead for a significant number of retail-based businesses to reopen. As of last week, 47 counties had submitted their "attestation" documents certifying the county has met the readiness criteria designed to mitigate against the spread of COVID-19. However, some major population centers such as Los Angeles have not yet met the state's criteria and thus only essential services and other curbside business can open in those counties.
While retail business can open for in-store service in most counties, personal services like nail salons, massage/spa services and other services requiring the touching of the face will have to wait until the state finalizes industry guidelines to protect workers and customers. Sporting events, concerts and entertainment venues will remain closed. The final phase—stage 4—marks the end of the state's "stay-at-home" order and the lifting of all restrictions. However, the Governor has stated many of those large gatherings would not be permitted until a vaccine can be made widely available.
From Headquarters
CDFW Confirms Wolf Depredation in Modoc County
Last week, the California Department of Fish and Wildlife (CDFW) released a Livestock Loss Determination confirming a wolf depredation of a 250-pound calf in Modoc County on May 13.
According to the report, on the morning of May 13, "a ranch employee reported that he witnessed a wolf attacking a 250 lb. calf by its throat." While investigators did not believe the bite marks and hemorrhaging were extensive enough to "clearly implicate a wolf," the investigators swabbed the bite wounds and calf hide for saliva, which was then analyzed by a CDFW geneticist. The samples came back as belonging to a male wolf.
The full Livestock Loss Determination is available here.
Happening this week: Working Rangelands Wednesday Webinar Focused On Water Quality
Don't miss this week's Working Rangelands Webinar taking place on Wednesday, June 3 at 1pm PDT, which will feature Dr. Ken Tate, Professor and Rustici Specialist in Rangeland Watershed Sciences, discussing current issues surrounding grazing and water quality on California's rangelands and pastures. Register here to receive a zoom link the morning of the webinar.
Working Rangelands Wednesdays is a bi-weekly webinar series where topics around rangeland agriculture in California and across the West are explored.
If you are not able to view the webinar live or want to watch previous Working Rangelands Wednesdays sessions, visit the UC Rangelands YouTube channel. For questions, please contact Dr. Leslie Roche at lmroche@ucdavis.edu.
$10 Million Available through NRCS Stewardship Program; Apply by June 12
The Conservation Stewardship Program (CSP) in California has received a historic $10 million to help farmers, ranchers and forestland managers enhance their levels of stewardship and receive payments for doing so. The 2020 application deadline is June 12.
Through CSP, USDA's Natural Resources Conservation Service (NRCS) helps farmers, ranchers and forest landowners expand stewardship activities and receive payments for both their existing conservation work and new enhancements they undertake. Enhancements are available to help improve soil health and pollinator habitat, address changing weather patterns, and improve the quality and quantity of rangeland forage. Examples of ranching projects which might be funded include control of invasive plants, including yellow star thistle, patch burning, improving wildlife habitat, advanced grazing management and protection of riparian areas and other sensitive habitat.
CSP contracts run for a term of five years, with an option to renew the contract for another five-year term at its conclusion. Contracts cannot exceed $200,000 for the five-year term, though there is no annual limit so long as the term limit is not exceeded. Contracts begin August 1 and annual stewardship payments begin after October 1.
Unlike in prior years, CSP can now also be utilized to fund stewardship efforts on public lands.
"California has been a leading state in conservation implementation including USDA NRCS Environmental Quality Incentives Program (EQIP) participation for more than two decades," said RaeAnn Dubay, assistant state conservationist for Farm Bill programs. "This means we have hundreds of farmers who have successfully completed prior conservation projects and are well positioned to move to the next level of conservation with additional practices through CSP." Dubay added that in today's unfortunate pandemic circumstances, this $10 million investment in conservation can also help support rural economies throughout California.
"This is a program especially well-suited to California where many agricultural industries and supporters promote and reward advanced levels of stewardship," said Dubay. "CSP can help with those additional goals.  It can also help producers meet regulatory requirements or further work they have been doing to promote organic production, forest health and rangeland management."
While conservation applications are accepted throughout the year, interested producers should at a minimum express interest in applying for CSP to their local NRCS office no later than June 12, with the application and plan completed by the end of the month.
Further details about the CSP program can be found on the NRCS California website, here. For additional information about applying for CSP, please schedule an appointment with your local USDA Service Center (which you can find here), or contact RaeAnn Dubay at (530) 792-5653 or Victor Hernandez at (530) 792-5628.
LAST CHANCE: BLM Fuels Reduction and Rangeland Restoration Feedback Due Tomorrow
As previously reported in Legislative Bulletin in April, the Bureau of Land Management is soliciting feedback on a Draft programmatic Environmental Impact Statement (PEIS) for Fuels Reduction and Rangeland Restoration in the Great Basin, which includes portions of northeastern California. The document considers targeted grazing as among the suite of management tools for both fuels reduction and rangeland restoration.
Permittees and other interested parties are encouraged to review the draft PEIS (available here) and to submit comments to BLM by the June 2 deadline at its online e-planning portal, here. Specifically, ranchers are encouraged to support BLM's Preferred Alternative, Alternative B ("Protect, Conserve, and Restore Sagebrush Communities"), which encourages the use of targeted livestock grazing for fire fuels reduction.
CCA staff will be submitting comments by tomorrow's deadline and will keep you apprised of any developments.
Grazing and Prescribed Burning for Fire Safety Workshop Set for July 2
Please join the University of California Cooperative Extension on Thursday, July 2 at 9:00 for a virtual meeting to hear results from a study investigating how livestock grazing influences fire safety and to discuss the development of a Prescribed Burn Association in San Benito, Monterey and Santa Cruz counties.
This 1-hour workshop will provide updates on two fire-related grants:
UCCE San Benito County has been conducting research on how much forage/fuels livestock consume in counties across California, and how grazing influences fire safety in the State. They will share results from the study. This research is supported by a grant from the California Cattle Council.
UCCE San Benito County and the RCD of Monterey County (RCDMC) were recently awarded a CAL FIRE grant to develop a Prescribed Burn Association (PBA). Next steps will be discussed to develop a PBA in San Benito, Monterey, and Santa Cruz counties; new collaborative burning and potential research opportunities with CAL FIRE; and working with a burn boss to lead your prescribed burn on private or public land.
Speakers will include Devii Rao (UCCE), Jamie Tuitele-Lewis (RCDMC), Jonathan Pangburn (CAL FIRE), Phil Dye (Prometheus Fire Consulting), and Felix Ratcliff (LD Ford, Consultants in Rangeland Conservation Science).
The virtual workshop is free to attend by Zoom or by telephone, but registration is required. To register, click here or contact Devii Rao at drorao@ucanr.edu or 831-205-3125. Once registered, you will receive Zoom/call-in information. Registration deadline is June 26. To read the flyer and learn more, click here.
CCA in the News
Local restaurants are facing higher meat prices Random Lengths News "Mark Lacey, a cattle rancher near Independence (about three hours northeast of Bakersfield), is president of the California Cattlemen's Association and a member of the California Beef Council. That places him on the producer end of the beef market. 'Everything is a little more expensive in California,' Lacey said. 'Some of that has to do with regulatory costs.'" To continue reading, click here.
Industry News
2,000 attend Klamath rally demanding answer to water problems Capital Press "By the thousands, they rolled through the Southern Oregon countryside in tractors, hay trucks, log trucks, pickups and minivans, their hand-painted signs greeted by supportive passers-by who agreed with the message of Friday's "Shut Down and Fed Up" rally: the water problems that for decades have plagued the region and its farmers must be resolved." To continue reading, click here.
Coronavirus Heightens California's Wildfire Risk The Wall Street Journal "A line of firefighters wearing yellow protective gear trudged up a ridge carrying water hoses on a recent Thursday, all wearing smoke shrouds on their faces and standing at least 6 feet apart. The participants were engaged in a new type of wildfire training that involves masks and social distancing, part of an unprecedented effort by authorities in the West to prepare for what could be yet another dangerous fire season and the first in memory to take place during a pandemic." To continue reading, click here.
U.S. Transportation Dept. Updates Final Hours of Service Rule California Ag Today "The U.S. Department of Transportation's Federal Motor Carrier Safety Administration published its final rule updating the "Hours of Service" rules designed to increase safety on America's roads. The department updated multiple existing regulations for commercial motor vehicle drivers." To continue reading, click here.
U.S. Ground Beef Sales Up $1 Billion in 2020 Drovers "Through May 17, U.S. ground beef sales increased more than $1 billion compared to the same period last year. That's just some of COVID-19's impact on retail meat and poultry markets, says Anne-Marie Roerink, president of 210 Analytics." To continue reading, click here.
COVID-19 likely to affect beef industry into 2021 Beef Magazine "Cattle processing challenges continue to limit the amount of beef available to consumers. While daily slaughter levels have consistently improved, they have yet to approach levels that would match slaughter-ready cattle supplies, let alone begin to work through the backlog of cattle accumulated during the past two months." To continue reading, click here.
Upcoming Events
CCA Midyear Meeting & Cattle PAC Auction
Originally scheduled for June 17-19 in San Luis Obispo County, this year's Midyear Meeting has been postponed to June 15-17, 2021. 
As the COVID-19 crisis evolves, please watch for the status of upcoming CCA events and local association meetings to be posted at calcattlemen.org, on CCA's social media platforms and in future issues of Legislative Bulletin.
Additionally, with the impact the outbreak has had on many livestock sales, CCA has created a webpage (calcattlemen.org/upcomingsales) on the CCA website dedicated to hosting the status of upcoming sales. To submit the status of your upcoming sale please fill out the form on the webpage or click here.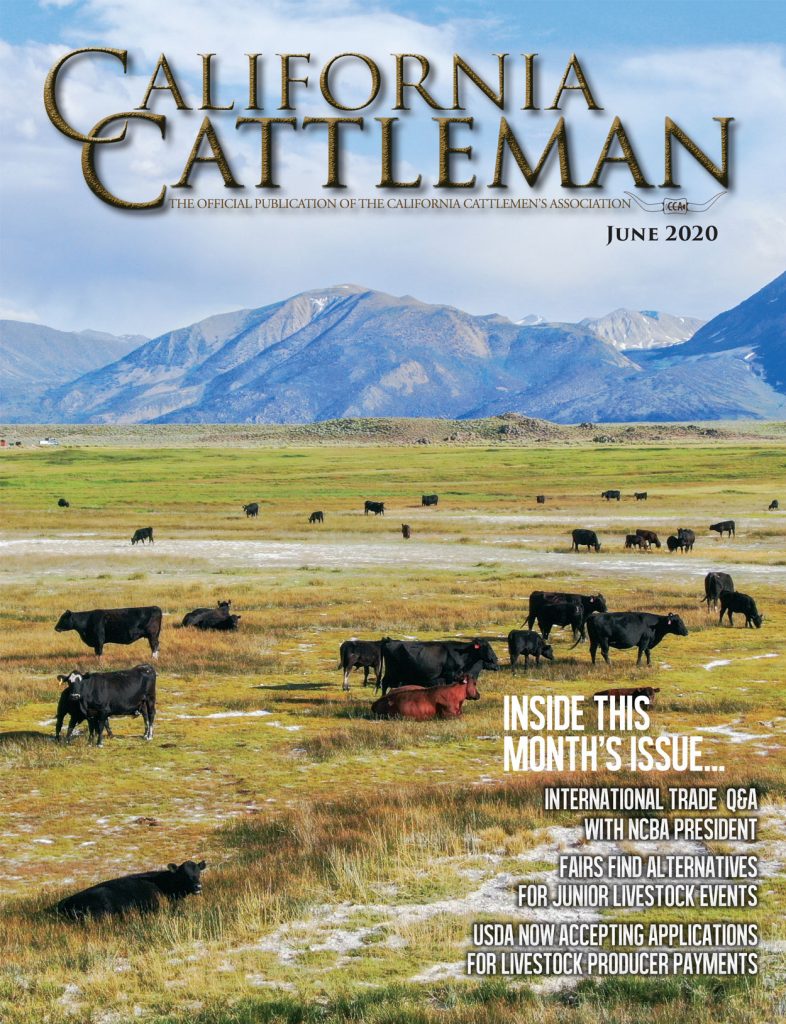 California Cattleman
Click here to read the latest issue!
From international trade questions to fairs and junior livestock show cancellations to ranchers working through COVID-19 and supply chain challenges, you won't want to miss this June issue of the California Cattleman.
Sign up to receive Legislative Bulletin in your inbox every Monday