LEGISLATIVE BULLETIN
To read the full version each week, please subscribe below.

COVID-19 Updates From Headquarters
President Trump Issues Executive Order Protecting Food Supply Chain
Last Tuesday, President Trump issued an Executive Order aimed at ensuring the continued, efficient flow of meat products throughout the U.S. food supply chain. The Executive Order delegates the President's authority under the Defense Production Act to Secretary of Agriculture Sonny Perdue to "take all appropriate action under [the Defense Production Act] to ensure that meat and poultry processors continue operations." The Executive Order further clarifies that meat processing facilities should operate in accordance with a recent guidance document issued jointly by the Centers for Disease Control and Prevention (CDC) and Occupational Safety and Health Administration (OSHA) to protect the health of employees.
Most beef processing plants remained operational prior to the Executive Order. Most plants which did close appear poised to re-open their facilities (after screening employees, deep-cleaning facilities and/or instituting new health and safety protocols) early this week.
SBA to Begin Accepting EIDL Applications for Agricultural Businesses
As reported in last week's Legislative Bulletin, the Paycheck Protection Program and Health Care Enhancement Act signed into law on April 24 infused the Small Business Administration's (SBA) Economic Injury Disaster Loan (EIDL) program with an additional $50 billion in funding. Importantly, the Act also mandated that the EIDL program be made available to agricultural enterprises as defined in the Small Business Act ("businesses engaged in the production of food and fiber, ranching, and raising of livestock, aquaculture, and all other farming and agricultural related industries").
Prior to the Paycheck Protection Program and Health Care Enhancement Act, SBA had been prohibited by law from providing disaster assistance to farmers and ranchers under EIDL for nearly 30 years.
Today, SBA announced that it has resumed processing EIDL applications that were submitted before the program stopped accepting new applications on April 15. Those prior applications will be processed on a first-come, first-served basis. But SBA also announced that it will begin accepting new EIDL applications today, and that SBA will initially accept new applications only from agricultural businesses. The move is an acknowledgement of the high demand for disaster assistance loans within the agricultural sector, the fact that agriculture was previously denied COVID-19 relief under EIDL and the unprecedented need for relief to U.S. agricultural businesses.
The EIDL program provides eligible small businesses with up to $2 million to help cover costs that could have been covered by the business had the disaster not occurred. Loan proceeds can only be used to alleviate the specific economic injury claimed and to enable the business to resume normal operations.
There are also EIDL Advances offered through SBA. EIDL Advances are capped at $10,000 per business and $1,000 per employee. If the advances are used to fund permissible COVID-19-related expenses, the advance will be deemed a grant and the advance will no longer need to be paid back. Note, however, that this forgiveness only applies to the EIDL Advance amount and is not applicable to the full loan availability under the EIDL program of up to $2 million.
Information regarding EIDL and EIDL Advance is available here, and the application—which must be submitted directly via the SBA—is available here.
Congress Considers Further Ag Relief as Ranchers Await Details on Existing USDA Program
On April 17, President Trump and USDA Secretary Sonny Perdue announced the Coronavirus Food Assistance Program (CFAP), a $19 billion economic aid package for farmers and ranchers impacted by the market fallout from the COVID-19 pandemic. While USDA announced that CFAP would include $16 billion in direct relief payments to farmers and ranchers—including $5.1 billion earmarked for cattle ranchers—few other details of the program have been formally released.
Last week, Legislative Bulletin reported on CFAP provisions being considered by the Administration, as detailed in a press release issued by Senator John Hoeven (R-ND), chairman of the Senate Agriculture Appropriations Committee. According to Sen. Hoeven, USDA is contemplating a single payment that incorporates two calculations: (1) compensation for 85% of price losses incurred between January 1 and April 15, and (2) compensation for 30% of expected losses from April 15 through the next two quarters. A producer's compensation for any given commodity will be capped at $125,000, and any producer's overall compensation will be capped at $250,000.
Last week, Legislative Bulletin also reported on efforts by CCA, the National Cattlemen's Beef Association and other groups calling on USDA to remove those limitations on relief payments to beef producers. Likewise, a bipartisan group of Senators and Representatives have asked the Administration to remove payment caps under CFAP.
Secretary Perdue has responded that while aid limits are nor required by law, the caps will help USDA spread relief funds more broadly among the nation's farmers and ranchers, noting that providing greater aid to some farmers and ranchers would leave less funding for others.
Unfortunately, final details regarding CFAP have still not been released, including details as to how USDA will calculate "price losses," though such details should be forthcoming given USDA's stated intent to begin accepting applications in early-to-mid May for disbursement in late May or early June.
But even while USDA hasn't yet released the full details of how it will administer agricultural relief funding appropriated under the Coronavirus Aid, Relief, and Economic Security (CARES) Act signed into law on March 27, federal lawmakers are already considering infusing the agency with significantly more emergency funding.
On April 23, Rep. Austin Scott (R-GA) introduced H.R. 6611, which would provide USDA with $50 billion "to prevent, prepare for, and respond to the COVID–19 pandemic by providing support for agricultural producers impacted by the COVID-19 pandemic, provided that the Secretary shall not apply any limitation on payments made to producers using funding provided under" the bill. As of press time, the bill is co-sponsored by a bipartisan group of 31 Congresspeople.
CCA will keep you apprised of any developments regarding CFAP or further Congressional relief for the agricultural industry.
Modifications to State's "Stay-at-Home" Order Coming as Legislature Reconvenes this Month 
Last week, Governor Newsom announced that he plans to bring "meaningful changes" to California's current stay-at-home order, but also warned that progress in combatting COVID-19 would be compromised if people do not adhere to strict physical distancing practices.
Based on the Governor's statements during his daily press conference last Tuesday, he believes the state is "a few weeks away, not months away" from altering the stay-at-home order that began on March 19. By Friday, Newsom had altered his outlook, clarifying that it would be "many days, not weeks" until certain restrictions on the retail, hospitality and food service sectors might be lifted.
Last month the Governor outlined several key healthcare-related indicators that would assist the Administration in relaxing the order and allowing Californians to return to some semblance of normal routine and, in many cases, to return to work. The State's stay-at-home order established benchmarks for local governments, allowing more restrictive policies that were adopted in many of the most populated municipalities and fewer restrictions in more rural areas that had seen fewer COVID-19 cases.
Given growing pressure from less populated communities and the realization that more densely populated cities are still facing a significant number of cases, it is likely the Governor will consider easing restrictions to allow for flexibility depending on the jurisdiction. Los Angeles County, where half of the state's infections have occurred, could see a different shelter-in-place policy than less populated Sacramento County under a potential modified order. On Friday, Modoc County businesses began to reopen after the County's Board of Supervisors voted earlier in the week to reopen businesses despite Governor Newsom's shelter-at-home order, and today some businesses in Sutter and Yuba counties will likewise begin to reopen.
In other news, the State Legislature will reconvene the Legislative Session this month, with the State Assembly returning today and the State Senate pushing its return date to next Monday. While the Legislature is planning on holding committee and budget hearings, procedures are still somewhat fluid at this point as the Legislature considers establishing a process that is fully open and accessible to the public while maintaining the health and safety of those participating in that process. Striking that balance is proving to be challenging given some of the disagreements amongst lawmakers as to how to best conduct legislative session and manage the committee hearing process. Many lawmakers would like to see the recess extended another month, and others—due to health concerns or preexisting conditions—believe the process should be conducted virtually. Some believe returning now is important to maintaining the role of the Legislature in the policymaking process, which has been dominated by the Governor over the past six weeks.
Congress Approves Additional Funding for Paycheck Protection Program
On April 14, President Trump signed into law the Paycheck Protection Program and Health Care Enhancement Act, infusing the Paycheck Protection Program (PPP) with an additional $310 billion in funding.
The PPP—established by the Coronavirus Aid, Relief, and Economic Security (CARES) Act signed into law on March 27 and administered by the Small Business Administration (SBA)—was initially funded at $349 billion. Those initial funds ran dry on April 16, at which time the SBA ceased accepting new PPP applications until operations resumed last Monday.
Under the PPP, any small business with fewer than 500 employees is eligible for a loan of up to $10 million. Loans are 100% forgivable so long as funds are used for approved expenses and employers do not terminate or cut the pay of employees.
There will be high demand for the additional $310 billion in loan funding, and the funds are likely to be depleted quickly—so ranchers should file their applications without delay. Many experts suggest that the PPP needs at least $1 trillion in total funding—and Friday's action still falls at least $341 billion short of that total.
For more information on the PPP, EIDL or other loans or financial assistance available to California ranchers, contact the CCA office.
READ THIS: How to apply for the PPP if you Don't Have Employees
The Small Business Administration (SBA) has been clear that the Paycheck Protection Program (PPP) is available even to small businesses which do not have employees. Despite these assurances, CCA has received numerous calls and emails from ranchers concerned that they are not eligible for the program, or wondering how a sole proprietorship, a partnership or another enterprise lacking employees should file an application for the PPP.
In prior issues of Legislative Bulletin and email releases, CCA has pointed members to USDA's COVID-19 FAQ webpage, which includes a "Paycheck Protection Program" drop-down menu with advice for businesses without employees.
Late last month, the SBA and Department of the Treasury released a document titled "How to Calculate Maximum Loan Amounts—By Business Type." The document details how numerous business types—including sole proprietorships and partnerships without employees—should go about calculating their maximum loan amounts and what documentation will be needed for their loan applications.
If the above resources do not answer your questions regarding applying for the PPP, CCA encourages you to contact your lending institution for further clarification.
Treasury Clarifies PPP Applications for Seasonal Employers
Last week, the Department of the Treasury released an interim final rule on Additional Criterion for Seasonal Employers seeking PPP funds. Under the CARES Act, seasonal employers were to calculate their maximum loan eligibility by referencing their average monthly payroll payments for "the 12-week period beginning February 15, 2019, or…March 1, 2019, and ending June 30, 2019." Under the interim final rule, however, seasonal employers may now "elect to determine its maximum loan amount as the average total monthly payments for payroll during any consecutive 12-week period between May 1, 2019 and September 15, 2019." The rule change is particularly useful for businesses which were not in operation—or which were not fully operational—as of February 15. For more information—including an FAQ—see the interim final rule linked above.
From Headquarters
Ranchers with Private Land Leases Needed for Grazing Costs Research
The California Cattlemen's Association (CCA) is working closely with researchers at the University of Wyoming to analyze the non-grazing-fee costs of grazing livestock on public lands (the research is funded by CCA-affiliate the Public Lands Council). While our research on public lands is well-underway, we need data on the costs of grazing livestock on privately leased land to round out the study. Data on the non-fee costs of grazing on public lands has no value in a vacuum; we need data about the costs of running cattle and sheep on privately leased land as a 'baseline' against which to compare those results.
If you lease privately-owned rangeland to graze cattle or sheep, please consider participating in this study. One benefit of this study is that it provides us hard data to combat radical environmentalists' slander that public lands ranchers are 'welfare ranchers' based on their willful disregard of the time, money and other resources that ranchers put into improving our public lands. That data is useful in engaging Congress, federal land management agencies and the public. But hard data on the costs of grazing privately leased rangeland will be much more than a 'baseline' for the study, it will provide CCA with hard data useful in educating state legislators and regulators seeking to regulate private rangelands.
Non-fee grazing costs research first began in the 1960s and extended into the 1990s but has not been updated in 20 years. The current project will provide an update on differences in total cost of grazing livestock on private and public land over time (or note if no real change has occurred). The information gained from this research could be used to develop a trend in total costs that can be used for future research and policy.
If you lease private land to graze livestock and are willing to assist CCA by participating in this research, please contact Kasey Dollerschell, the UW graduate student spearheading the study, at kdoller1@uwyo.edu or (970) 589-9339. Kasey has a quick survey that can be filled out over the phone or sent out and returned via USPS or email.
Finally, if you have received a packet pertaining to federal allotments for this study we urge you to respond to Kasey, as well.
Participate in the CCA Membership Survey on Bull Purchase and Management, Now Available Online
Earlier this year, the survey titled "Factors influencing bull selection decisions and management in extensive rangeland production systems of the western United States" was mailed out. The survey is now available to be taken online by clicking here.
CCA partnered with Cal Poly, UC Cooperative Extension and Chico State to launch this survey sponsored by the California Beef Cattle Improvement Association. All involved greatly appreciate CCA members taking 20 minutes to complete the anonymous survey and return in the prepaid envelope. Results will be shared in a future edition of the California Cattleman.
If you have any questions or would like a paper copy of the survey please contact Zach McFarlane Cal Poly, San Luis Obispo at (805) 756-2685 or zmcfarla@calpoly.edu.
Fish and Game Commission Advances Mountain Lions to Candidacy
On April 16, the California Fish and Game Commission met via teleconference to consider whether a petition to list an "evolutionarily significant unit" of mountain lions in the Central Coast and Southern California as threatened under the California Endangered Species Act (CESA) "may be warranted." Over the objections of CCA and others, the Commission voted unanimously to advance the species to candidacy—meaning that the species now enjoys full CESA protections as the Department of Fish and Wildlife undertakes a 12-month species status evaluation ahead of the Commission's final listing determination in 2021.
CCA urged the Commission to reject the petition on the grounds that mountain lion depredations of livestock are devastating to cattle ranchers in the Central Coast and Southern California, and that ranchers need a way to protect their cattle from the predators. But CCA also argued that the Commission was obligated to reject the petition because 1990's Proposition 117 requires the issuance of take permits for mountain lions who injure or kill livestock and CESA listing would illegally conflict with Proposition 117.
In his closing remarks before the Commissioners took their vote, however, Department of Fish and Wildlife Director Charlton Bonham downplayed CCA's legal concerns. Bonham argued that Proposition 117's allowance for take permits need not preclude the Commission from protecting mountain lions under CESA, because the Department's "obligation would be to reconcile and harmonize" the two statutory schemes.
Unfortunately, it is not immediately clear how the Department will harmonize CESA's broad take prohibition with Proposition 117's allowance that a rancher may take a mountain lion that kills livestock. The day after the Commission's vote, CCA sent a letter to Director Bonham highlighting the uncertainty the Commission's action had caused for agricultural producers in the Central Coast and Southern California, and asking that the Department clarify that take permits will continue to issue despite the species being granted candidacy for threatened-species status under CESA.
CCA continues to be the leading voice in advocating for your right to protect your livestock from mountain lions and will keep you informed regarding our communications with the Department and the Commission. Until further notice, however, CCA urges members in the Central Coast and Southern California to proceed with caution and assume that the Commission's action precludes any take of mountain lions—including those 'caught in the act' of depredating livestock.
However, CCA also encourages those who have suffered a depredation event to continue contacting the Department to seek a take permit for the depredating lion, and to communicate your interactions with the Department to CCA staff. Such efforts may help clarify the Department's stance on take permit issuance while mountain lions are a candidate species.
CCA in the News
California cattle leaders launch Resilience 2020 campaign The Hanford Sentinel  "The California Cattle Council, in conjunction with the California Cattlemen's Association, launched Resilience 2020 this week. The combined effort seeks to reassure consumers that California ranchers, in this time of adversity, are well-positioned to produce an ample supply of the safest, most sustainable beef anywhere in the world." To continue reading, click here.
California beef producers launch Resilience 2020 campaign Beef Magazine "'Just as cattle ranchers have emerged from disasters like drought, flood, wildfire and recession stronger than before, history will reflect that our shared resilience as Californians unites and defines who we are as a community,' said Mark Lacey, California Cattlemen's Association president and rancher, in announcing Resilience 2020." To continue reading, click here.
Industry News
Season's last snowpack survey confirms dry winter. California inching toward statewide drought The Sacramento Bee "The last Sierra Nevada snowpack measurement of the season on Thursday confirmed what California officials have feared for months: The state has suffered through a dry winter." To continue reading, click here.
States, cities file suit over Navigable Waters Protection Rule Agri-Pulse "Seventeen states and two cities are suing the Trump administration over its Navigable Waters Protection Rule, joining a host of environmental groups that have already filed lawsuits challenging the new definition of 'waters of the U.S.'" To continue reading, click here.
Upcoming Events
CCA Midyear Meeting & Cattle PAC Auction
Originally scheduled for June 17-19 in San Luis Obispo County, this year's Midyear Meeting has been postponed to June 15-17, 2021. 
As the COVID-19 crisis evolves, please watch for the status of upcoming CCA events and local association meetings to be posted at calcattlemen.org, on CCA's social media platforms and in future issues of Legislative Bulletin.
Additionally, with the impact the outbreak has had on many livestock sales, CCA has created a webpage (calcattlemen.org/upcomingsales) on the CCA website dedicated to hosting the status of upcoming sales. To submit the status of your upcoming sale please fill out the form on the webpage or click here.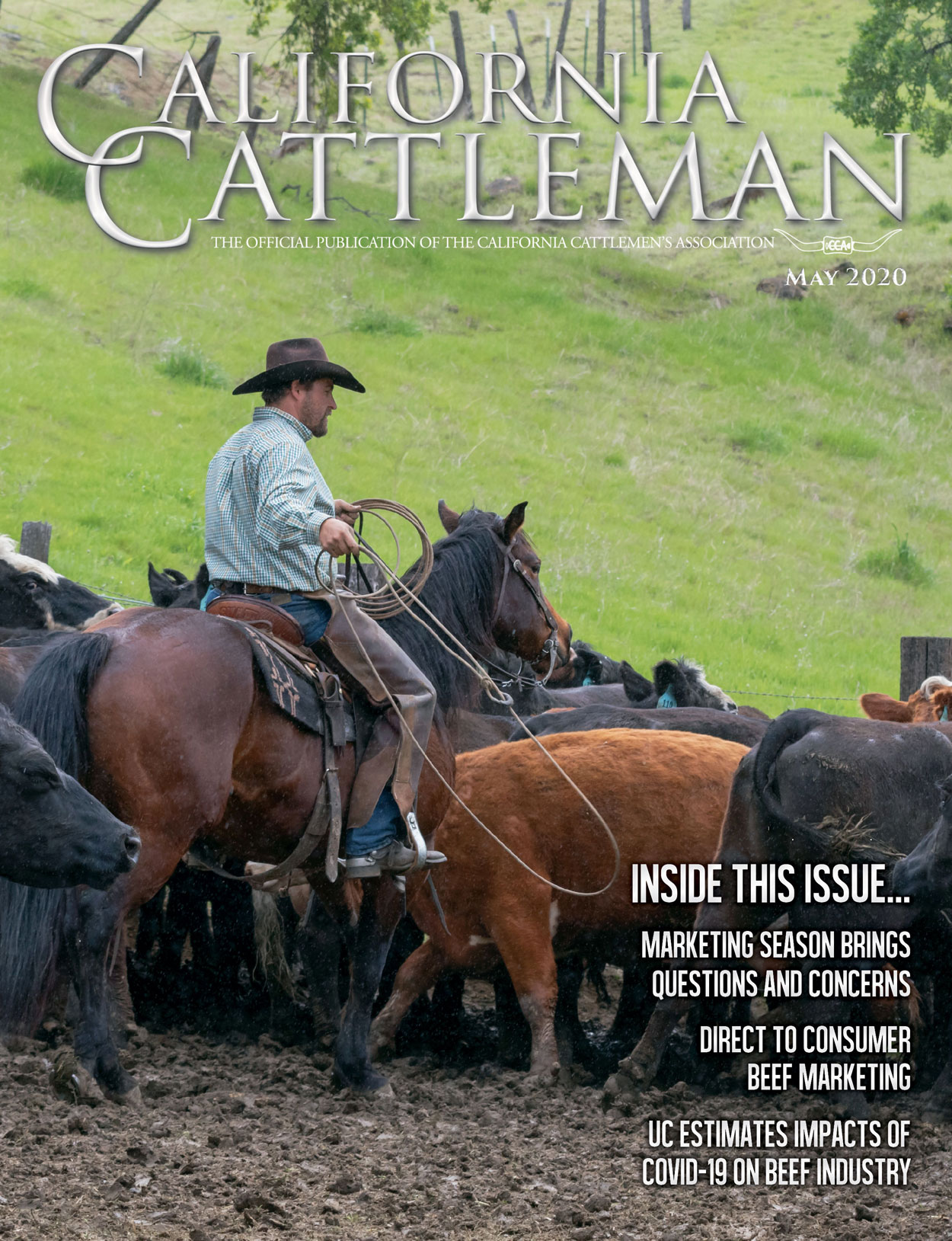 California Cattleman
Click here to read the latest issue!
This May issue features California livestock auction markets and contains a directory for current marketing date up and down the state. It also contains special features on auction yards, producers partaking in direct meat-to-consumer marketing, early COVID-19 impacts on beef prices and more.
Sign up to receive Legislative Bulletin in your inbox every Monday