LEGISLATIVE BULLETIN
To read the full version each week, please subscribe below.

From Headquarters
Trump Administration Finalizes WOTUS Replacement
On Thursday, the Environmental Protection Agency (EPA) and Army Corps of Engineers (Corps) announced the finalization of the "Navigable Waters Protection Rule," the Trump Administration's replacement for the Obama Administration's expansive 2015 Waters of the United States ("WOTUS") Rule.
In 2015, the Obama Administration finalized a WOTUS Rule that vastly expanded the regulatory jurisdiction of the EPA and Corps, giving the agencies unprecedented permitting authority over water features like ephemeral waters (those that contain water only in response to rainfall) and even over often-dry land features. CCA and other agricultural and business interests fought the 2015 WOTUS Rule at the agencies, in the Capitol and in the courts (going all the way to the Supreme Court).
Fortunately, with President Trump's election came a promise to repeal and replace the 2015 WOTUS Rule, a promise that has been fully kept after Thursday's action by the EPA and Corps.
Importantly, the Navigable Waters Protection Rule limits the scope of the EPA and Corps' jurisdiction, specifying which categories of waters are not subject to federal control. These waters include ephemeral waters, groundwater, most farm ditches, prior converted cropland and stockponds.
CCA affiliate the National Cattlemen's Beef Association hailed the announcement, with NCBA President Jennifer Houston acknowledging that "President Trump, EPA Administrator Wheeler, and Assistant Secretary of the Army R.D. James deserve a lot of credit for listening to cattle producers and for working with us to get us to this point."
The 2015 WOTUS Rule was repealed in September of 2019, a move that environmental groups have challenged in the courts. Likewise, CCA expects that environmental groups will challenge the Navigable Waters Protection Rule in court in the coming weeks and months. CCA, NCBA and our allies stand ready to support the Administration's action.
For more information on the Navigable Waters Protection Rule or WOTUS, contact Kirk Wilbur in the CCA office.
ACT NOW: Take Lahontan Water Board's Bacteria Water Quality Objectives Survey
The Lahontan Regional Water Quality Control Board has long had the most stringent bacterial water quality objective in the state: Lahontan regulations require that water samples find no more than 20 colony-forming-units (CFUs)of fecal coliform per 100 milliliters (mL) of water. By contrast, the statewide standard set in 2018 by the State Water Resources Control Board—which measures the specific indicator bacteria E. coli rather than fecal coliform generally—is 100CFU/100mL.
CCA and ranchers throughout the Lahontan region have long challenged the region's onerous bacterial water quality standard. The 20CFU/100mL benchmark was initially intended to safeguard the waters of Lake Tahoe and should not be applied throughout the entirety of the region. The stringent water quality standard is impossible to meet throughout much of the region, create a regulatory nightmare for ranchers and placing them on an uneven playing field with ranchers elsewhere within the state and elsewhere within the nation.
The Lahontan Regional Water Quality Control Board has committed to reevaluate its bacterial water quality objectives in 2020, and is soliciting feedback from the public via a survey, available here. The 10-question survey takes only 3-5 minutes to complete, and CCA urges ranchers—both inside and outside the Lahontan region—to complete the survey.
Most importantly, CCA suggests that ranchers answer Question 6, "Given the choice, would you favor the current Lahontan Region fecal coliform objective of 20CFU/100mL or the statewide E. coli objective of 100CFU/100mL?" with the second option, "I favor the statewide E. coli objective."
The survey will be available until Sunday, February 23 at 5.00pm.
Public Lands Council Names Glover as Executive Director
The following press release was published by the Public Lands Council.
The Public Lands Council (PLC), a national trade association representing 22,000 ranchers who raise cattle and sheep on federal land, today announced that Kaitlynn Glover joined the organization as its executive director.
In this role, Glover will serve as the chief lobbyist for the organization, representing cattle and sheep producers in western states on resource issues affecting their operations. The robust legislative and regulatory portfolio focuses on protecting grazing on federal land, and includes the Clean Water Act, tax policy, the Endangered Species Act, property rights, and other matters that affect livestock production in the West.
"I'm passionate about the work of the Public Lands Council and look forward to working with the incredible leaders who volunteer their time to lead the organization," said Glover. "My top priority will continue to be executing the policy developed by public lands grazers across the West to ensure a strong future for agriculture and healthy public lands. I look forward to leveraging my experience and bringing new perspectives to the many important issues impacting the West."
Glover comes to PLC from Sen. John Barrasso's (R-Wyo.) office and brings additional experience in international affairs from her work with the agricultural semi-state authority in Ireland, Teagasc. Originally from Wyoming, Glover has strong ties to grazers, recreationalists, and many other users of public land resources.
"As we look at the future of federal lands ranching in Washington and anticipate the leadership needed to drive our priority issues forward, we need a strong voice," PLC President Bob Skinner said. "Kaitlynn is an outstanding fit as she comes well equipped to serve our organization with legislative knowledge, relationships, and a passion to drive PLC to higher ground. With her leadership, our organization will continue to be well represented in Washington".
Glover will also lead the National Cattlemen's Beef Association's natural resources policy portfolio in the organization's Washington, D.C. office.
Proposed Climate Resiliency Bond Amount Climbs
Legislative Bulletin previously reported on the $4.75 billion climate resiliency bond endorsed in Governor Gavin Newsom's initial budget proposal, and a similar $4.2 billion climate resiliency bond proposed by Senator Ben Allen (D-Santa Monica).
Last week, Sen. Allen proposed increasing the amount of his climate resiliency bond proposal from $4.2 billion to $5.5 billion. That amendment would change the amount of money devoted to protecting against wildfires and other natural disasters to $2.2 billion, a $500 million increase over the bill's initial proposal.
CCA will continue to monitor these climate resiliency proposals, which are likely to play a significant role in negotiations between the legislature and the Governor's office regarding the budget, and will keep members apprised of any developments.
CCA Membership Survey on Bull Purchase and Management
Check your mailboxes for the survey titled "Factors influencing bull selection decisions and management in extensive rangeland production systems of the western United States." CCA partnered with Cal Poly, UC Cooperative Extension, and Chico State to launch this survey sponsored by the California Beef Cattle Improvement Association.
All partners on the survey appreciate CCA members taking 20 minutes to complete the anonymous survey and return in the prepaid envelope. Results will be shared in a future edition of the California Cattleman magazine.
"This survey gets at the core fundamentals of beef production, sire selection and management," states Anthony Stornetta, San Luis Obispo County Cattlemen's President. "As a commercial cattleman, I am interested in the results of the survey that will focus on what cattlemen are doing across the West and how I can use the results to improve my operation."
If you have any questions or would like a copy of the survey, please contact Zach McFarlane of Cal Poly, San Luis Obispo's Animal Science Department at (805) 756-2685 or zmcfarla@calpoly.edu.
Participate in the California Cattle Council Strategic Plan Survey by February 7th
The California Cattle Council (Council) is calling on all interested and willing cattle producers to participate in an online survey to assist the Council in developing a strategic plan. The strategic plan will provide a framework for the Council to fully realize its mission to support California beef and dairy producers and target the most critical issues facing the industry today. In addition, the plan will guide the allocation of funds over the coming years to ensure projects, research, campaigns and advocacy efforts are effective and can be properly measured to determine success. Grassroots input is critical to ensure the Council can accomplish this objective. This is your dollar and the Council takes its obligation to effectively and responsibly serve the California cattle industry very seriously. Survey results are anonymous, and the Council encourages your candid participation.
To learn more and take the survey, click here.
California Wool Growers and California Pork Producers Association Seek Executive Director
The California Wool Growers and California Pork Producers Association are currently looking to fill the full-time position of Executive Director. The hired candidate will manage the two associations as agreed to by both Boards of Directors, and will work out of the office headquarters in Sacramento.
Job responsibilities for this position include policy and legislative representation, financial management, communication, event planning and management, product/vaccine sales and marketing, marketing and promotions and clerical and administrative duties.
Applications are due by February 10th. To read the full job announcement click here, or contact Erica Sanko at (916) 444-8122 orat erica@woolgrowers.org.
Save the Date for the FARM Club | Beef Producer Symposium: February 22
Join the UC Davis School of Veterinary Medicine Center for their 2020 Winter Conference: FARM Club | Beef Producer Symposium.  The event, being hosted at Gladys Valley Hall, UC Davis, on February 22 from 8am to 5pm, will focus on learning and networking with other beef producers.
Guest speakers for the day will include the following.
Gabriele Maier, DVM, MPVM, Ph.D., DACVPM
Bret McNabb, DVM, DACT, DABVP
Frank Mitloehner, PhD
Jeffrey Stott, MS, PhD
Alison Van Eenennaam, PhD
Additionally, the day will include a Beef Quality Assurance (BQA) session this year, led by Dr. Gabriele Maier. To learn more about the event and complete your registration, click
here
.
Mountain States Legal Foundation Hosting Symposium 
The Mountain States Legal Foundation is hosting a symposium on federally-managed lands on Thursday, February 6, at the Tuscany Suites & Casino in Las Vegas. The symposium, titled Conservation or Confiscation, will include the following panel of speakers.
Jim Magagna (Executive VP of the Wyoming Stock Growers Association)
Katherine Arnold (former VP & Environmental Director of the Rosemont Copper Mine)
Prof. Bret Birdsong from UNLV (former Department of Justice attorney and Deputy Solicitor at Department of Interior during the Obama administration)
Tom French (a regional director at National Wildlife Federation)
To learn more about the Mountain States Legal Foundation and this symposium, click here.
Industry News
Controlled burns prevent California wildfires, study says. What aren't there more? The Sacramento Bee  "Experts from Stanford University are calling for more prescribed burns to prevent devastating wildfires in California, pointing to new research that asks why the approach hasn't been pursued more aggressively in the fire-plagued state."  To continue reading, click here.
Time's Up on Groundwater Plans: One of the Most Important New California Water Laws in 50 Years Explained KQED  The landmark Sustainable Groundwater Management Act, or SGMA, requires some of the state's thirstiest areas form local 'Groundwater Sustainability Agencies' and submit long-term plans by Jan. 31 for keeping aquifers healthy."  To continue reading, click here.
Dad hurls backpack at mountain lion to save 3-year-old son, California officials say Sacramento Bee "The animal bit the child on the neck and began to drag him away in the 4:15 p.m. attack at Whiting Ranch Wilderness Park in Lake Forest, according to KNBC." To continue reading, click here.
BLM's new Calif. State director starts today E&E News "Karen Mouritsen, a 27-year career federal official, starts today as director of the Bureau of Land Management's California state office responsible for managing more than 15 million acres of federal land." To continue reading, click here.
Upcoming Events
Cattle Industry Convention and NCBA Tradeshow
Feb. 5-7, San Antonio, TX
For more information, click here.
CCA Steak & Eggs Legislative Breakfast
March 25, Sacramento, CA
For more information, click here.
CCA Feeder Meeting
May 20-22, San Diego, CA
For more information, click here.
CCA Midyear Meeting
June 16-18, Paso Robles, CA
For more information, click here.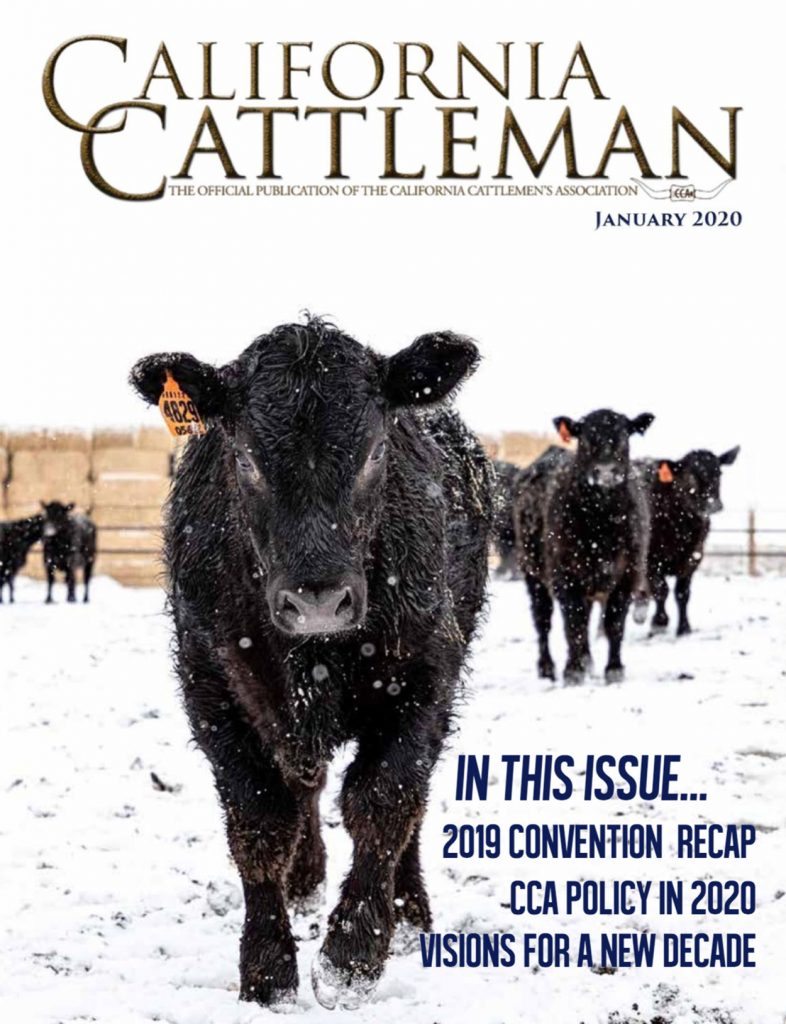 California Cattleman
Click here to read the latest issue!
Happy New Year! Our first issue of 2020 has all you need to know about the 103rd CCA & CCW Convention, including policy updates, new officers and 2019 photo contest and scholarship winners.
This issue also features Bruin Ranch, the 2019 CBCIA Seedstock Producer of the Year, and includes insights from beef industry leaders on a new year and decade.
Sign up to receive Legislative Bulletin in your inbox every Monday