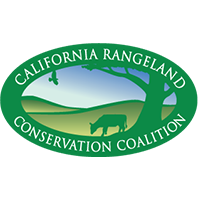 Join the California Rangeland Conservation Coalition and University of California Agriculture and Natural Resources for the 2020 Rangeland Summit!
Rangeland Health: Sustaining Ranchers, Communities and Ecosystems
Tuesday, January 14, 2020
Stockton, California
9:00 am – 3:30 pm
$30 Student, $75 Others
Network with ranchers, academics, non-government and agency rangeland decision and policy makers from across California.
Speakers will include:
Dr. Frank Mitloehner, UC Davis
Dr. Sasha Gennnet, The Nature Conservancy
Keali'l Bright, Department of Conservation
Dr. Marc Horney, Rangeland Management Advisory Council
Heather Hadwick, Modoc County Office of Emergency Services and Modoc Sheriff
& more!
To register and learn more about this event click the button below, or contact Karen Sweet.