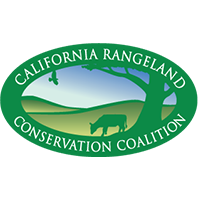 Join the California Rangeland Conservation Coalition and University of California Agriculture and Natural Resources for the 2018 Rangeland Summit!
Preventing Catastrophic Wildfire in California
The Role for Livestock Grazing
Tuesday, January 15, 2019
Stockton, California
9:00 am – 3:30 pm
Speakers will include:
Cattle Grazing to Manage Brush – Lynn Huntsinger, Rustici Chair, UC Berkeley
Fire risk increasing unevenly on public and private lands – Van Butsic, UC Berkeley
Post wildfire grazing on public lands I Northern California – Laura Snell, UCANR, Modoc County
Prescribed fire in California: Bottlenecks and opportunities – Jeff Stackhouse, UCANR, Humboldt County
Post fire grazing: How soon for multiple benefits? – Matt Shapiro, UCANR, Santa Barbara County
California wild fire policy – What's next? Will grazing be recognized as a tool?
Ranchers experienced with rangeland wildfire
Visit the California Rangeland Conservation Coalition website below for more information or contact Karen Sweet.