LEGISLATIVE BULLETIN
To read the full version each week, please subscribe below.

From Headquarters
CCA Hosting Tele-Town Hall Meeting This Thursday
With the cancellation of this year's Midyear Meeting due to COVID-19 precautions, CCA is hosting a tele-town hall meeting this Thursday at 7pm. During the conference call, CCA President Mark Lacey will provide a brief update on issues of importance and there will be time for Q&A from members.
At the start of the meeting, CCA will call all members that have phone numbers on file. To ensure participation, members may also join the meeting by calling (877) 229-8493 and using the participant code 118365.
2019 Water Use Reports Due July 1 for Many Diversions
Water rights holders required to file Statements of Diversion and Use (e.g. those with pre-1914 and riparian rights) must file their 2019 Statements no later than July 1 on the State Water Resources Control Board's website. The reports must be made electronically using the Water Board's electronic Water Rights Information Management System Report Management System (eWRIMS RMS) here. Failure to file water reports by the deadline may subject diverters to fines up to $500 per day.
The Water Board has developed a series of technical videos to help guide diverters through the process of reporting their annual diversion and use of water. If you experience any difficulty filing your report, you can view these informational videos here.
Water rights holders are encouraged to begin their reports immediately, as difficulties with filing do arise and the Water Board's help lines experience heavy call volume as the deadline approaches (additionally, the Water Board has indicated that the reporting deadline will not be extended despite the ongoing COVID-19 emergency and its impacts upon state administrative agencies). In recent years, the Water Board has increasingly threatened (and followed through on) enforcement fines for right-holders failing to meet the reporting deadlines.
While pre-1914 and riparian right-holders have until July 1 to file their reports, those diverting under appropriative water rights (certificates, registrations, permits and licenses) were required to file their annual water diversion and use reports by April 1. If you have an appropriative water right and have not yet filed for 2019 (or prior years), file immediately or contact the CCA office for assistance in order to limit or avoid hefty fines the Water Board may impose for failure to timely file.
For more information, contact Kirk Wilbur in the CCA office.
Secretary Perdue Issues Memo on Modernizing National Forests
On June 12, Secretary of Agriculture Sonny Perdue issued a memorandum to US Forest Service Chief Victoria Christiansen intended to serve as a blueprint for modernizing the USFS. "We need modern systems and approaches and less complicated regulations to serve our customers and improve our delivery of the goods and services that the American people want and need from the Nation's Forest System," Secretary Perdue wrote.
Secretary Perdue's blueprint outlines four broad goals for the agency, including "increasing the productivity of National Forests and Grasslands," "valuing our Nation's grazing heritage and the National Grasslands" and "expediting environmental reviews to support active management." While these goals are laudable, the Secretarial Memo includes few policy specifics and no clear timeline under which the goals and policies should be implemented and achieved.
But while the memorandum includes few specifics, it is an affirmation of the Administration's support for grazing on public lands—and for regulatory reform facilitating public lands grazing. Indeed, efforts to implement the reforms sought by the Secretarial Memo are already well-underway, such as a USFS rulemaking underway to reform the agency's implementation of the National Environmental Protection Act (NEPA).
CCA will keep you informed on efforts to implement Secretary Perdue's vision.
California Beef Council Producer Webinar, June 30 at 3 p.m.
Want to learn more about how your beef checkoff dollar works on your behalf? Join the California Beef Council (CBC) on Tuesday, June 30th for a one-hour webinar to hear about CBC programs and efforts, CBC's pandemic response and updates from the Cattlemen's Beef Board.
To register today, click here. After registering, you will receive a confirmation e-mail containing information about joining the webinar. A recording of this webinar will be available at the at the CBC website, here.
To be added to the CBC's contact list for future event announcements and invitations, contact Jill Scofield at jill@calbeef.org.
USDA Releases First Report from 2017 Beef Cow-Calf Study
On Friday, the United States Department of Agriculture's National Animal Health Monitoring System (USDA NAHMS) announced that it has released the first in a series of reports resulting from the agency's 2017 Beef Cow-Calf Study. The report contains information obtained from 2,013 beef cow-calf operations across 24 states, including California.
According to USDA NAHMS, highlights of the study include:
"Only 7.8 percent of calves born in 2017 had horns, indicating the widespread use of polled breeds. For horned calves that were dehorned, the average age at dehorning was 107.0 days.
"Overall, 77.3 percent of operations raised commercial cattle (cattle primarily marketed for consumption); 5.9 percent raised seedstock cattle only (cattle primarily marketed for breeding purposes); and 16.9 percent raised a combination of commercial and seedstock cattle.
"Of heifers bred to calve in 2017, 76.8 percent were bred only by bulls, and 15.1 percent were bred by a combination of artificial insemination and bull breeding.
"Of cows bred for calving in 2017, 92.9 percent were bred only by bulls, and 5.5 percent were bred by a combination of artificial insemination and bull breeding."
The full report is available at the USDA NAHMS website, here.
USDA Accepting CFAP Applications
The US Department of Agriculture is currently accepting applications for economic relief payments under the Coronavirus Food Assistance Program (CFAP) via USDA's Farm Service Agency (FSA) offices. CFAP will provide $16 billion in direct economic relief payments to farmers and ranchers suffering the market impacts of the COVID-19 pandemic, with $5.1 billion of that relief earmarked for beef producers.
CFAP applications will be accepted now through August 28, but CCA recommends that ranchers apply for relief payments without delay. For full details on how to apply, eligible livestock and payment rates, eligibility, payment limits and payment disbursements read the story in last week's Legislative Bulletin, here.
Last Call to Register for Grazing and Prescribed Burning for Fire Safety Workshop on July 2
Please join the University of California Cooperative Extension on Thursday, July 2 at 9:00 for a virtual meeting to hear results from a study investigating how livestock grazing influences fire safety and to discuss the development of a Prescribed Burn Association in San Benito, Monterey and Santa Cruz counties.
This 1-hour workshop will provide updates on two fire-related grants:
UCCE San Benito County has been conducting research on how much forage/fuels livestock consume in counties across California, and how grazing influences fire safety in the State. They will share results from the study. This research is supported by a grant from the California Cattle Council.
UCCE San Benito County and the RCD of Monterey County (RCDMC) were recently awarded a Cal Fire grant to develop a Prescribed Burn Association (PBA). Next steps will be discussed to develop a PBA in San Benito, Monterey and Santa Cruz counties; new collaborative burning and potential research opportunities with Cal Fire; and working with a burn boss to lead your prescribed burn on private or public land.
Speakers will include Devii Rao (UCCE), Jamie Tuitele-Lewis (RCDMC), Jonathan Pangburn (CAL FIRE), Phil Dye (Prometheus Fire Consulting), and Felix Ratcliff (LD Ford, Consultants in Rangeland Conservation Science).
The virtual workshop is free to attend by Zoom or by telephone, but registration is required. To register, click here or contact Devii Rao at drorao@ucanr.edu or 831-205-3125. Once registered, you will receive Zoom/call-in information. Registration deadline is June 26. To read the flyer and learn more, click here.
CCA in the News
Great American Outdoors Act Facing Significant Opposition AgNet West "The opposition to the Great American Outdoors Act is being spearheaded by the National Cattlemen's Beef Association, the American Sheep Industry Association and the Public Lands Council. Other signatories of the letter include the California Cattlemen's Association, Association of National Grasslands, and California Wool Growers Association. The coalition of industry groups highlight the current economic landscape as being an inappropriate time to engage in non-essential spending." To continue reading, click here.
Resilience 2020 Expands to Highlight Sustainability of Cattle Industry AgNet West "The Resilience 2020 campaign has been expanded to also highlight other areas of the cattle industry. Launched by the California Cattle Council and the California Cattlemen's Association, the Resilience 2020 campaign was initially intended to reassure consumers that beef supplies would remain strong despite setbacks created by COVID-19." To continue reading, click here.
Western Innovators: Cowbelles promote cattle ranching Capital Press "The Belles began as a way for women in the cattle industry and advocates to get together. They assist in the activities of the California CattleWomen's Association, California Cattlemen's Association and the American National CattleWomen.​" To continue reading, click here.
Industry News
PG&E pleads guilty to manslaughter charges for Camp Fire, deadliest in California history The Sacramento Bee "The names were read aloud, their photographs projected on a courtroom wall, the victims of the deadliest wildfire in California history….After each name was read, the chief executive of PG&E Corp. solemnly answered: 'Guilty, your honor.'" To continue reading, click here.
Can PG&E keep California from burning again? 'Nervousness' as the next fire season arrives The Sacramento Bee "PG&E Corp. is nearing the exit doors on its bankruptcy — and now faces the enormous task of delivering on its promise to prevent major wildfires in California." To continue reading, click here.
Ranchers Criticize Senate for Irresponsible Passage of Land Grab Legislation AgInfo.Net "As sportsmen and conservationists celebrate the Senate's passage of the Great American Outdoors Act, ranchers are criticizing the Senate for what they call an irresponsible passage of land grabbing legislation." To continue reading, click here.
Federal judge denies Democratic AG's bid to halt Trump WOTUS rule Politico "A federal judge in San Francisco on Friday denied an 11th-hour bid by a coalition of Democratic attorneys general to halt implementation of the Trump administration's controversial new definition of streams and wetlands that warrant federal protection." To continue reading, click here.
Upcoming Events
CCA Tele-Town Hall Meeting
June 25, 7pm
More details in the story above.
CCA has created a webpage (calcattlemen.org/upcomingsales) on the CCA website dedicated to hosting the status of upcoming sales. To submit the status of your upcoming sale please fill out the form on the website or click here.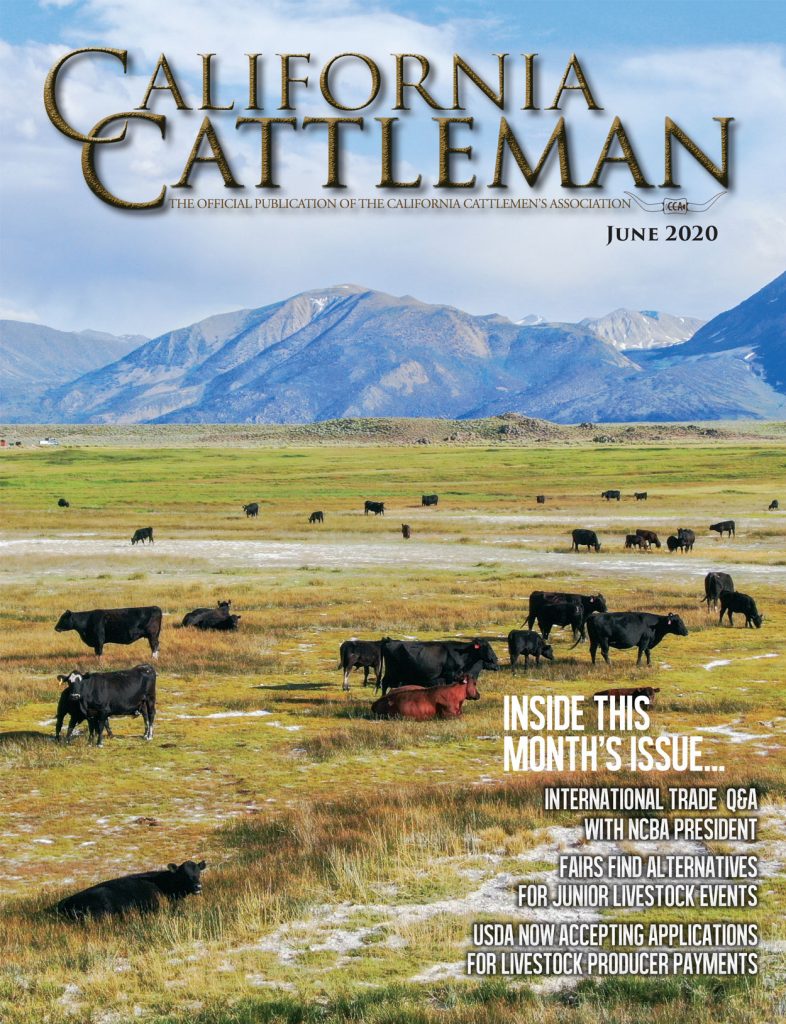 California Cattleman
Click here to read the latest issue!
From international trade questions to fairs and junior livestock show cancellations to ranchers working through COVID-19 and supply chain challenges, you won't want to miss this June issue of the California Cattleman.
Sign up to receive Legislative Bulletin in your inbox every Monday