LEGISLATIVE BULLETIN
To read the full version each week, please subscribe below.

COVID-19 Updates From Headquarters
Hours of Service Exemptions for Livestock Haulers Extended Through July 14
As previously reported by CCA, on March 18 the Federal Motor Carrier Safety Administration (FMCSA) issued an Expanded Emergency Declaration exempting livestock haulers from compliance with the federal Hours of Service rules that limit drive time. Under the Emergency Declaration, Hours of Service rest requirements remain in effect, meaning that once a driver returns to his or her "normal reporting location," that individual must still receive a minimum of 10 hours of off-duty rest.
The Emergency Declaration, previously set to expire June 14, has been extended another month through July 14 for certain freight, including livestock and livestock feed. Under the modifications to the Declaration, only finished feed products remain exempt from the ordinary Hours of Service regulation; ingredients used in feed product are no longer exempt from Hours of Service rules. Indeed, most freight exempted under the March 18 Declaration are no longer exempt: in addition to livestock and livestock feed, only medical supplies and safety equipment needed to prevent and treat COVID-19 remain exempt.
In response to FMCSA's March action, Governor Gavin Newsom issued an Executive Order also exempting haulers engaged in intrastate or interstate transportation from California's Hours of Service regulations. California's exemption remains in effect as long as FMCSA's Declaration remains in effect.
CCA will keep you informed of any further developments regarding Hours of Service regulations for hauling livestock.
USDA to Host CFAP Webinars for Producers
Earlier this month, the USDA Agricultural Marketing Service announced that it will be hosting a series of webinars in which "ag producers can learn more about the Coronavirus Food Assistance Program" (CFAP). Of greatest relevance to beef producers is the "Outreach CFAP Webinar for Non-Specialty Crops & Livestock Producers," which will be Tuesday, June 16 at noon Pacific Time.
On Thursday, June 18, USDA will also host a webinar titled "Outreach CFAP Webinar on FSA Programs in the Time of Coronavirus" addressing all commodities covered by the program.
Producers must pre-register for the webinars at the Farm Service Agency's CFAP Webinars page. FSA will post recordings of the webinars online after each live event, ensuring information is available even to those who are unable to participate in the events. For more information regarding CFAP and details on how to apply, see the story below.
USDA Accepting CFAP Applications
The US Department of Agriculture (USDA) is currently accepting applications for economic relief payments under the Coronavirus Food Assistance Program (CFAP) via USDA's Farm Service Agency (FSA) offices. CFAP will provide $16 billion in direct economic relief payments to farmers and ranchers suffering the market impacts of the COVID-19 pandemic, with $5.1 billion of that relief earmarked for beef producers.
How to Apply for CFAP
At this time, USDA Service Centers are open for business by phone appointment only, so ranchers should call their county FSA office to schedule an appointment. You can find contact information for your county FSA office here (click on the Northern or Southern region and then click on your county to find your county office's contact information).
USDA has posted a video guide to the application process here. First, producers will need to complete a CFAP Application (form AD-3114). USDA has released a CFAP Payment Calculator as an Excel workbook which can be used to complete the form AD-3114, at www.farmers.gov/CFAP (under the "CFAP Application" heading).
Applicants may need to complete additional paperwork to report information such as tax identification number, the operating structure of your ranch, adjusted gross income (to ensure eligibility) and direct deposit information. Those forms are also available at www.farmers.gov/CFAP.
CFAP applications and supporting materials can be submitted electronically by scanning, emailing or faxing them to your FSA office. USDA has asked that you call and make arrangements with your county FSA office prior to submitting applications electronically. USDA has established a CFAP Call Center for producers who would like additional one-on-one support with the CFAP application process, at (877) 508-8364.
CFAP applications will be accepted now through August 28, but CCA recommends that ranchers apply for relief payments without delay.
Eligible Livestock and Payment Rates
CFAP assistance is available to livestock producers who have an ownership interest in eligible livestock that have suffered a five percent-or-greater price decline as a result of the COVID-19 pandemic and face additional significant costs in marketing their inventories due to unexpected surplus and disrupted markets. A single payment for livestock will be calculated using the sum of two calculations: (1) the producer's number of livestock sold between January 15 and April 15, 2020 multiplied by the payment rates per head (below), and (2) the highest inventory number of livestock between April 16 and May 14, 2020, multiplied by the payment rate per head (below). Note: Those who sold no cattle between January 15 and April 15 are still eligible for relief payments under the second calculation but will receive no reimbursement under the first calculation. Eligibility rates for cattle are available at www.farmers.gov/CFAP/livestock.
Definitions for each category of eligible livestock—and other details regarding CFAP—can be found in the National Cattlemen's Beef Association's CFAP Background and Frequent Asked Questions document, here.
After reviewing the CFAP, CCA believes that payments under Part 2 of the program fall short of providing full, meaningful relief for California ranchers hard-hit by the economic fallout of COVID-19. CCA is working with our national affiliate the National Cattlemen's Beef Association (NCBA) to provide additional relief for America's ranchers. As previously reported in Legislative Bulletin, there are already bipartisan efforts in Congress to infuse the program with funding to provide additional relief to farmers and rancher.
Eligibility
A person or legal entity, other than a joint venture or general partnership, is ineligible for payments if the person or legal entity's average adjusted gross income (AGI) between tax years 2016-2018 is more than $900,000, unless at least 75 percent of that person or legal entity's average AGI is derived from farming, ranching or forestry-related activities. The AGI cap is waived for individuals who can certify that 75% or greater of their income is derived from agricultural production.
Payment Limits
CFAP payments are subject to a per-person and legal entity payment limitation of $250,000. This limitation applies to the total amount of CFAP payments made with respect to all eligible commodities. The total payment amount of CFAP payments attributed to an individual will be determined by accounting for the direct and indirect ownership interests of the individual in all legal entities participating in CFAP.
Unlike other FSA-administered programs, special payment limitation rules will be applied to participants that are corporations, limited liability companies and limited partnerships (corporate entities). These corporate entities may receive up to $750,000 based upon the number of shareholders (not to exceed three shareholders) who are contributing substantial labor or management with respect to the operation of the corporate entity.
Payment Disbursement
According to USDA, initial CFAP payments will be distributed "shortly after the application is approved by FSA," likely within 7-10 days. Initial payments will only cover 80% of an applicant's calculated CFAP total. To ensure that CFAP payments do not exceed the $16 billion funding limit, the remaining 20% of a producer's payment "will be paid at a later date as funds remain available."
Federal Lawmakers Introduce PASTURE Act to Provide Further COVID-19 Relief for Ranchers
Earlier this month, federal legislators introduced the Pandemic Authority Suitable to Utilize Reserve Easements (PASTURE) Act, which would authorize USDA to open up Conservation Reserve Program (CRP) acreage for emergency haying and grazing in response to the COVID-19 emergency. The bipartisan legislation was introduced by Representative Roger Marshal (R-KS) and Angie Craig (D-MN), with a Senate companion bill introduced by Senators John Thune (R-SD) and Tina Smith (D-MN).
Currently, CRP is largely limited to weather-related emergencies; the PASTURE Act would expand the CRP program, authorizing haying and grazing on CRP acreage during pandemics such as COVID-19. The text of the PASTURE Act is available here.
From Headquarters
CCA Hosting Tele-Town Hall Meeting Thursday, June 25
With the cancellation of this year's Midyear Meeting due to COVID-19 precautions, CCA is hosting a tele-town hall meeting next Thursday, June 25 at 7pm. During the conference call, CCA President Mark Lacey, will provide a brief update on issues of importance and there will be time for Q&A from members.
At the start of the meeting, CCA will call all members that have phone numbers on file. To ensure participation, members may also join the meeting by calling (877) 229-8493 and using the participant code 118365. More details about the call will be provided next week.
Happening Wednesday: Working Rangelands Webinar
Join Cooperative Extension Advisors, Specialists, Researchers and Ranchers for Working Rangelands Wednesdays, where they explore topics around rangeland agriculture in California and across the West. The goal of this webinar series is to discuss challenges related to managing multiple-use rangelands through an applied, land manager-oriented lens.
The next webinar is Wednesday, June 17th at 1pm PDT and will feature Dr. Tina Saitone presenting "Can you Insure Against Drought? Information and Outcomes from the Pasture, Rangeland, and Forage Insurance Program."
Register here to receive a zoom link the morning of the webinar. Please note, this is not a direct link to the webinar– you must register in advance. If you are not able to view the webinar live or want to watch previous Working Rangelands Wednesdays sessions, visit the UC Rangelands YouTube channel.
Questions? Please contact Grace Woodmansee at gwoodmansee@ucdavis.edu.
U.S. Forest Service pack strings available for range management work
Forest Service packers and mules are available to support management activities on public lands throughout California. In the rangeland setting, pack strings are often used to transport materials and tools for fencing and other range improvements.  Horses and mules can also be used to support specialists and crews working in remote areas, which helps agency personnel get out on the ground and improves their efficiency. The packers can also assist agency personnel by serving as members of interdisciplinary teams or by independently performing work on horseback, such as monitoring/data collection or checking fence. Though pack strings often work in wilderness and wilderness study areas, they can be used anywhere that motorized access is not available; mules are typically less expensive than helicopters.
The U.S. Forest Service Region 5 Pack Stock Center of Excellence coordinates packers and mules from six different national forests to complete projects in California and neighboring states. The pack strings can work with any government agency (such as Forest Service, Bureau of Land Management, Natural Resources Conservation Service, California Department of Fish and Wildlife) and their partners.  For more information, or to request help with a project, please contact Ken Graves at (530) 524-1167 (kenneth.graves@usda.gov) for Northern California, or Michael Morse at (760) 937-7854 (michael.morse@usda.gov) for Southern California.
Industry News
Livestock Groups Oppose Great American Outdoors Act AgWeb "The U.S. Senate moved forward on considering the Great American Outdoors (GAO) Act (S.3422) on Monday, Sen. Joe Machin's (D-WV) landmark legislation. While the bill appears to have wide bipartisan Senate support, 48 livestock and natural resource groups oppose the bill." To continue reading, click here.
USDA: Meatpacking production almost at last year's numbers Washington Times "The U.S. Department of Agriculture says production of beef, pork and poultry is operating at only a 5% decline compared to a year ago, despite shutdowns of meatpacking plants due to the coronavirus." To continue reading, click here.
Cows Being Used to Produce COVID Vaccine Drovers "The fight against COVID-19 continues throughout the U.S. A biotechnology company in South Dakota is using cows to produce human antibodies to fight SARS-CoV-2. Clinical trials using the antibodies will begin this summer." To continue reading, click here.
Ground beef is being recalled at these stores Fox Business "Nearly 43,000 pounds of ground beef are being recalled because of possible E. coli contamination, first reported by USA Today. [USDA's] Food Safety and Inspection Service announced on Saturday that Lakeside Refrigerated Services of Swedesboro, New Jersey, is recalling the ground beef that was produced June 1." To continue reading, click here.
Upcoming Events
CCA Tele-Town Hall Meeting
June 25, 7pm
More details in the story above.
CCA has created a webpage (calcattlemen.org/upcomingsales) on the CCA website dedicated to hosting the status of upcoming sales. To submit the status of your upcoming sale please fill out the form on the website or click here.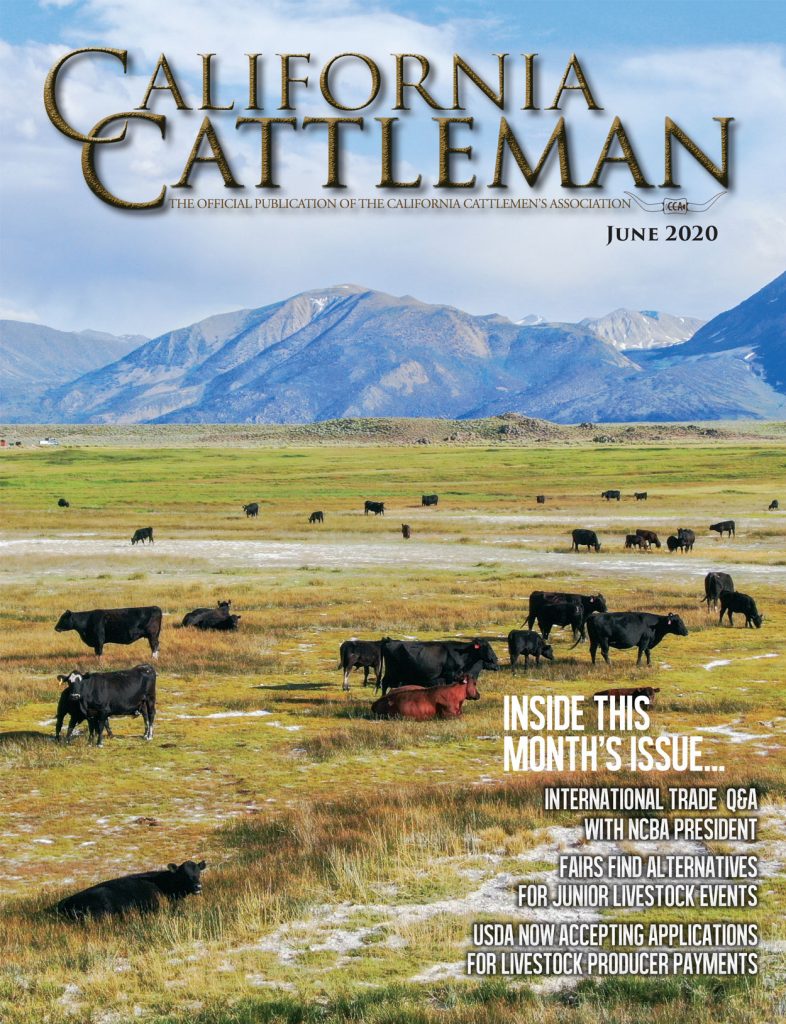 California Cattleman
Click here to read the latest issue!
From international trade questions to fairs and junior livestock show cancellations to ranchers working through COVID-19 and supply chain challenges, you won't want to miss this June issue of the California Cattleman.
Sign up to receive Legislative Bulletin in your inbox every Monday