LEGISLATIVE BULLETIN
To read the full version each week, please subscribe below.

From Headquarters
Another Hurdle Down as USMCA passes the Senate and Heads to the President's Desk
In a historic 89-10, bipartisan vote, the US-Mexico-Canada Agreement (USMCA) passed its second hurdle in the U.S. Senate last week. Coming fresh off the heels of another trade win—just one day after the signing of the U.S.-China trade agreement—the legislation is headed to the President's desk, likely to see his signature sometime this week. 
It was initially suggested that the USMCA vote would be delayed in the Senate until after the much-anticipated impeachment trial, but with the House's delay in sending the articles of impeachment over to the Senate, lawmakers took the opportunity to move forward on the measure. 
Meat producers have been especially eager for USMCA negotiations to finalize because of what the deal means for exports: Mexico and Canada make up nearly 30% of beef and 40% of pork exports. Maintaining tariff-free export is critical.
"The ratification of USMCA is a crucial win for all U.S. beef producers and a reassurance that U.S. beef will continue to have unrestricted, duty-free access to Canada and Mexico," National Cattlemen's Beef Association President Jennifer Houston said. "NCBA has been a strong supporter of USMCA since day one, and we believe that today's vote sends a strong message to the rest of the world that the United States believes in free and fair trade. We are thankful to every Member of Congress in both House and Senate who voted for USMCA, and we thank President Trump for continuing to secure and defend strong market access for America's cattlemen and cattlewomen."
After being ratified by the House and Senate, and subsequent to the President signing the measure, an implementation date will be set following Canada's final approval of the agreement. Canada's Parliament is currently considering the measure and is likely to move rapidly on ratification once it returns to session on January 27. 
CCA will continue to provide updates as USMCA develops further. 
California Employers Soon Required to Register for Employee Retirement Plan; Producer Conference Call TOMORROW
California employers will soon be required to facilitate retirement plans for their employees if they do not do so already. In 2016, then-Governor Jerry Brown signed into law SB 1234 (DeLeon, 2016) which requires employers with 5 or more employees to provide a retirement plan for their workers or register for the CalSavers program and facilitate employees' own contribution to individual retirement accounts.
By June 30, companies with 100 employees and no employer-sponsored retirement plan must register with the state-run CalSavers program. This then gives employees the ability to choose their contribution rate to a Roth IRA, automatically deducting that amount from their after-tax paycheck.
While the deadline for larger companies is this June, the rollout for smaller employers will occur over the next two years with the deadline for companies with 50 or more employees occurring June 30, 2021, and businesses with 5 or more employees, June 30, 2022.
To help ranchers understand how this could affect their operations CCA, in conjunction with Western United Dairies, will be hosting a conference call with Jonathan Herrera of the CalSavers Retirement Savings Program and the California State Treasurer's Office January 21, 1-3pm. Producers are encouraged to call in to find out more. Call-in number: 1-866-365-4406, Group PIN: 4440848#
Mandatory Climate Change Education Bill Introduced in the Assembly
A new bill introduced to the legislature last week would require California students learn about climate change in school. Assembly Bill 1922, introduced by Assemblywoman Luz Rivas (D-North Hollywood), seeks to mandate that students learn the "causes and effects" of climate change in classroom coursework as early as first grade, and makes the subject a high school graduation requirement for grades 7-12, beginning in 2025. While the state's science curriculum currently includes the topic of climate change, according to Rivas, it has not been a priority.
"Climate change needs to be a part of our day-to-day academic discussion," Rivas said in a statement. "This past decade has already started with extreme climate incidents occurring across the globe. As the youth that will inherit the brunt of climate change effects, we need them to be a part of the solution."
AB 1922 specifically seeks to amend Section 51210 of the education code, the section that specifies curriculum requirements, to include climate change as an additional science requirement. While it does not specify exactly what the curriculum would include, with the nature of the climate change discussion historically, CCA will continue to monitor this bill closely.
CCA Membership Survey on Bull Purchase and Management
Check your mailboxes for the survey titled "Factors influencing bull selection decisions and management in extensive rangeland production systems of the western United States." CCA partnered with Cal Poly, UC Cooperative Extension, and Chico State to launch this survey sponsored by the California Beef Cattle Improvement Association.
All partners on the survey appreciate CCA members taking 20 minutes to complete the anonymous survey and return in the prepaid envelope. Results will be shared in a future edition of the California Cattleman magazine. 
"This survey gets at the core fundamentals of beef production, sire selection and management," states Anthony Stornetta, San Luis Obispo County Cattlemen's President. "As a commercial cattleman, I am interested in the results of the survey that will focus on what cattlemen are doing across the West and how I can use the results to improve my operation."
If you have any questions or would like a copy of the survey, please contact Zach McFarlane of Cal Poly, San Luis Obispo's Animal Science Department at (805) 756-2685 or zmcfarla@calpoly.edu.
Governor Newsom Unveils Preliminary 2020-21 Budget
Earlier this month, Governor Gavin Newsom unveiled his 2020-21 budget, which will set the tone for much of the fiscal debate before the legislature this session. As part of the $222 billion California state budget overview, the Governor highlighted a $5.6 billion surplus as well as the $21 billion in reserves for the possibility of an economic downturn.
Of particular interest to ranchers are funds designated for wildfire impacts. Included in the budget were funds to hire over 500 additional firefighters over the next 5 years and $100 million to make homes in low-income areas more fire-resistant through measures like upgrading wooden roofs and closing gaps where sparks could enter. These funds come as part of a total $2 billion emergency services budget, also including funds earmarked for high-tech mapping of areas prone to wildfires and other natural disasters to better predict these events and give firefights better strategies to combat them.
While not technically part of the budget, Governor Newsom also expressed his support for a $4.75 billion "climate resilience bond" targeted at the November ballot to mitigate climate change risks. Newsom says that he envisions a large majority of the bond revenue—about $2.9 billion—would be spent on water, flood and drought measures.
Wildfire measures, including reforestation and the hardening of critical infrastructure, would receive $750 million from the bond. This forest health investment comes as a complement to the forest health and fuel reduction activities supported by the Greenhouse Gas Reduction Fund and to investments that utilities have been required to make in high-risk areas across the state.
Both houses of the legislature are also working on their own bond measures that would pay to safeguard property, water supplies, wildlife habitat and forests from the risks of climate change. The Senate plans to pass their bond, Senator Ben Allen's SB 45, off the floor by February.
Pacific Gas & Electric was a priority in the budget as well, with the proposed $30 million funding of a Wildfire Safety Division within the Public Utilities Commission to ensure the safe operation of the utility and the suggested possibility of a state takeover of PG&E if the utility does not emerge from bankruptcy by this summer to the satisfaction of state lawmakers.
"The budget reflects necessary support for the administration's efforts to achieve the required transformation of PG&E within the bankruptcy process," the budget states. "However, if protecting Californians' interests and ensuring the necessary transformation requires further intervention, including a state takeover of the utility, the administration will work with the Legislature."
Other highlights of the Governor's budget include:
$59.4 million to support community resiliency and state response during power shutoffs
$10 million for healthier and more nutritious school meals and $1.5 million to the California Department of Food and Agriculture to establish a farm to school grant program
$33 million for a Fresno-Merced Food Innovation Corridor to support sustainable agriculture and high-quality jobs
$20 million for methane reduction through the Dairy Digester Research Program and the Alternative Manure Management Program
$18 million annually for five years for healthy soils programs
The Governor's budget introduction is the first step in California's spending plan. In May, once state officials have a clearer estimate of the state's expected tax revenue, the Governor will issue the "May Revise." The legislature will have until June 15 to vote on the revise and send it back to Newsom for his final approval.
Council on Environmental Quality Proposes New NEPA Rules
On January 9, the Trump Administration's Council on Environmental Quality (CEQ) issued proposed regulations revising the implementation of the National Environmental Policy Act (NEPA). The proposed amendments are intended to "facilitate more efficient, effective and timely NEPA reviews," according to a CEQ fact sheet. The current average timeframe for NEPA reviews—which impact authorization of range improvements and renewal of term grazing permits for ranchers grazing on federal land—is four and a half years.
Regulations implementing NEPA—signed into law in 1970—were last substantively revised more than thirty years ago, in 1986.
The proposed regulations suggest streamlining NEPA analysis in part by limiting the "effects" of proposed federal actions that agencies like the BLM and US Forest Service must consider; currently, federal agencies consider direct, indirect and cumulative effects of proposed actions, but the proposed amendments would direct agencies to consider only those effects which are "reasonably foreseeable and have a reasonably close causal relationship to the proposed action," reducing agencies' workload and limiting the analysis that potential environmental litigants can scrutinize.
The proposal also promotes the use of more efficient analyses, encouraging the use of categorical exclusions (actions which are exempted from detailed review) and environmental assessments (which are less burdensome than environmental impact statements), and CEQ proposes time limits and page limits on environmental analyses to ensure that most NEPA reviews are completed within two years.
CCA welcomes CEQ's announcement of the proposed rulemaking, as reforming and streamlining NEPA analysis has been a focus of CCA and CCA's public lands permittees in recent years.
For more information on CEQ's proposed regulatory amendments, see the January edition of Hot Irons or contact Kirk Wilbur in the CCA office. To provide comments to CEQ in support of the proposed rulemaking, click here and click "Comment Now!" prior to March 10.
Comments can also be made through NCBA and PLC's hosted online comment submission platform, which can be accessed at by visiting policy.ncba.org or clicking here.
Gabriele Maier, DVM, MPVM, Ph.D., DACVPM
Bret McNabb, DVM, DACT, DABVP
Frank Mitloehner, PhD
Jeffrey Stott, MS, PhD
Alison Van Eenennaam, PhD
Industry News
Gov. Newsom puts up $20 million for newest state park in Northern California cattle ranch Times-Herald  "A scenic, nearly 51,000-acre cattle ranch in the hills near Livermore that straddles four counties could become the state's newest park in a decade — and one of its largest." To continue reading, click here.
NCBA: Trade Deal With China a "Game Changer" for American Beef Producers NCBA "The National Cattlemen's Beef Association today applauded the signing of a Phase-One trade agreement with China, saying this agreement will lay the groundwork for American-produced beef to be highly competitive in the world's most populous market." To continue reading, click here.
Trump touts promises after painful year for farmers Politico "U.S. farmers are wading through some of their toughest years in recent history, beset with trade wars stoked by Donald Trump and weather disasters scientists expect to worsen due to climate change, a phenomenon the president dismisses." To continue reading, click here.
Upcoming Events
Red Bluff Bull & Gelding Sale
Jan. 21-25, Red Bluff, CA
For more information, click here.
Cattle Industry Convention and NCBA Tradeshow
Feb. 5-7, San Antonio, TX
For more information, click here.
CCA Steak & Eggs Legislative Breakfast
March 25, Sacramento, CA
For more information, click here.
CCA Midyear Meeting
June 16-18, Paso Robles, CA
More details to come.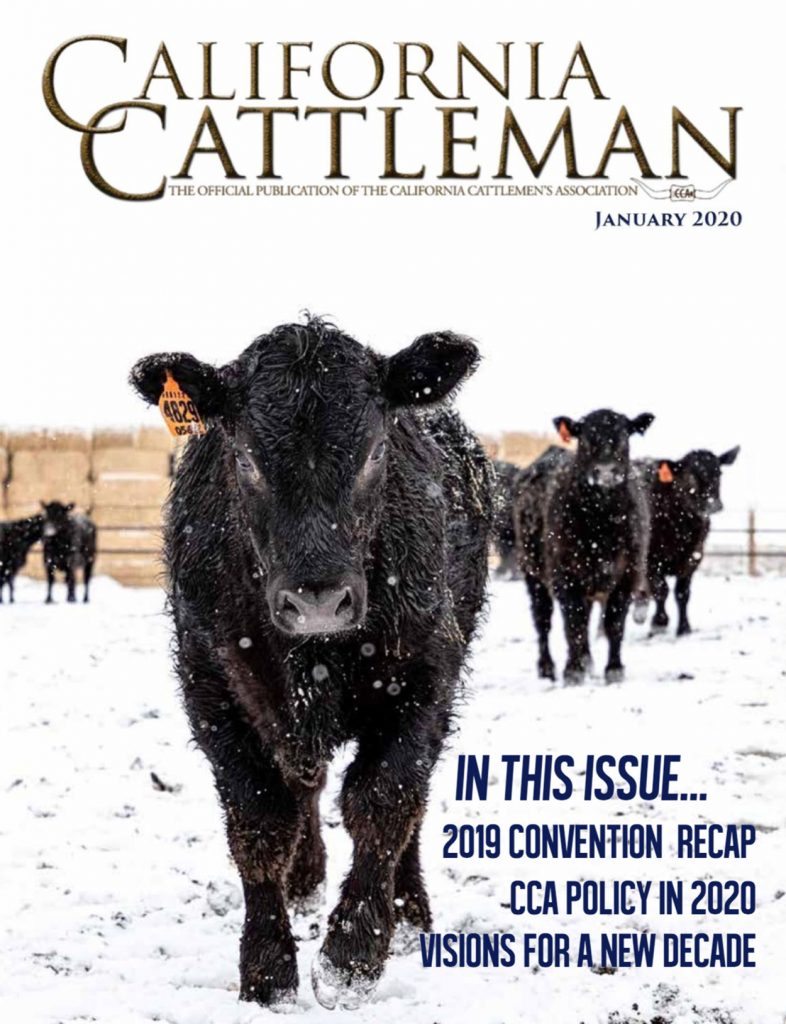 California Cattleman
Click here to read the latest issue!
Happy New Year! Our first issue of 2020 has all you need to know about the 103rd CCA & CCW Convention, including policy updates, new officers and 2019 photo contest and scholarship winners.
This issue also features Bruin Ranch, the 2019 CBCIA Seedstock Producer of the Year, and includes insights from beef industry leaders on a new year and decade.
Sign up to receive Legislative Bulletin in your inbox every Monday