WRITTEN BY THE SAN LUIS OBISPO COUNTY CATTLEMEN'S ASSOCIATION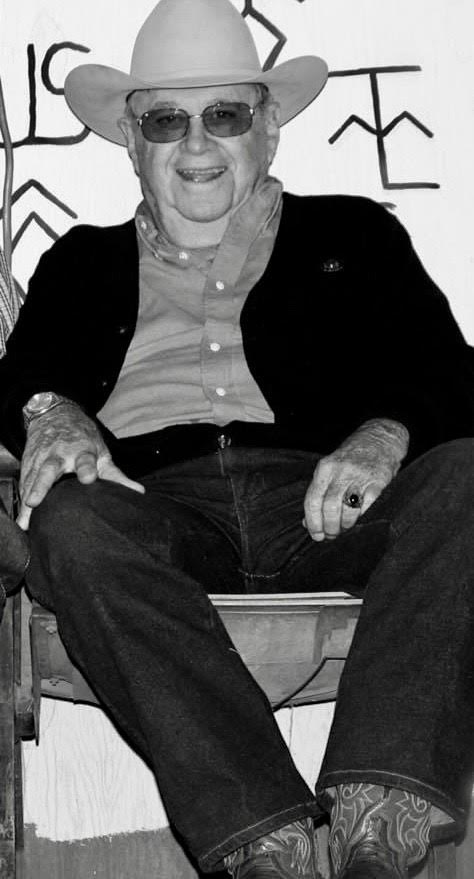 Richard Leo Nock, "Dick" – Central Coast cattle rancher, beef industry advocate and successful livestock entrepreneur – who shared a love of both family and country passed away on Monday, December 28th.  He was 89 years old.
The son of a schoolteacher, Margaret Donnolly and rancher Leo A. Nock, Dick was raised in Cambria on the Phelan Ranch where his great grandfather and pioneer Jeffrey Phelan settled in 1858.  He loved telling stories of his childhood be it working on the Fiscalini Ranch or serving as a chamber boy at the Castle for William Randolph Hearst.
Upon graduating from University of Santa Clara with a B.S. in Economics, Dick was called upon to serve in the U.S. Army and U.S. Armed Forces in Korea as a flight instructor and pilot.   After nearly 10 years of service, he completed his military commitment as a logistics officer at Camp San Luis for the California National Guard from which he emerged as a Lieutenant Colonel.
In 1957 with his economic foresight and love for the cattle industry, under the guidance of his father-in-law, Henry Gilardi, Dick threw his hat into the ring creating the T-Diamond Cattle brand. Ultimately this led to the purchase of a partnership in the Templeton Livestock Market fulfilling his unfaltering belief in trading and selling livestock within the Tri-County Area and beyond.  Next, he established the innovative original brand that was SLOCO Fed Beef. Produced directly from Cattleman to Consumer his objective once again was promoting local trade and selling county-produced beef.
Many became aware and interested in the world of cattle because of Dick's weekly column in the Telegram Tribune.  He wrote with such passion and conviction that one quickly developed a new appreciation for local cattle, rangeland and the men and women in the industry. One learned about market trends, foreign trade policies, diseases, new technologies, cattle futures, animal genetics, promotional activities, droughts and the ever so complexity of what takes to produce beef.
In addition to managing two of the area's largest ranches, the Chimineas and the Santa Margarita as well as a few thousand acres along the coast, he had numerous partners along his journey that are also some well recognized industry leaders such as; John and Dee Lacey, Davis Brothers, Donnie and Kathy Loftus and his current partner Claude Loftus. Dick was fortunate to join the Clark Company in 1989. There he was able to assist in the sale of local ranches and he thoroughly enjoyed mentoring his colleagues.
Dick dedicated much of his time to contributing to the betterment of the beef industry and was a long time member of the National Cattlemen's Association, California Cattlemen's Association, Livestock Marketing Association, Livestock Marketing Council of the National Cattlemen's Beef Association and the California Beef Council. He was honored to be chosen as Cattleman of the Year in 1979 and served on numerous committees and boards related to the Cattle and Agricultural industries including the historic "Osos Club."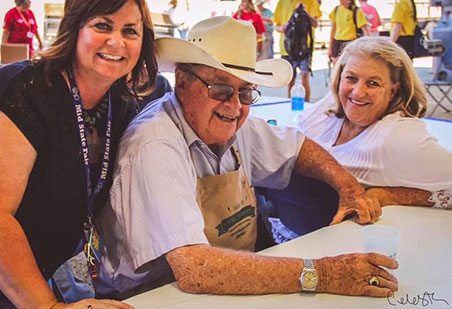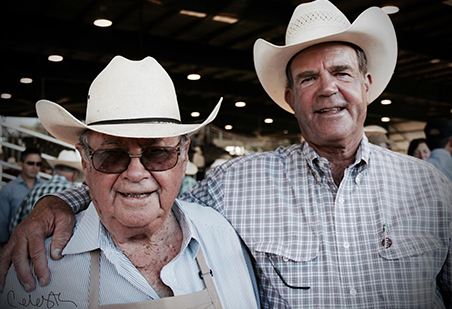 Dick was the President of the National Livestock Marketing Association and in 1980 held the national convention in San Luis Obispo County which included hosting the world champion auctioneer contest at the Templeton Livestock Market. The first time ever held on the West Coast. It was a huge event with people from around the world in attendance and 4500 head of cattle were auctioned off during the one day contest!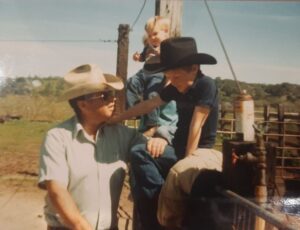 Dick served on the San Luis Obispo County Cattlemen's Association for nearly 60 years, he was a mentor to countless cattlemen and cattlewomen not only locally but across the nation. He always took the younger generation under his wing and got them involved at all levels of the industry. He had an impact on multiple generations, and to the date of his passing many of the SLO County Cattlemen's Association kids would always make a point to walk up and say hello to Dick. He was very unique in every way and everyone wanted a little time with him.
Dick's passion for education and our youth extended to the Midstate Fair where he established the Cattlemen's Day and organized the Jr. Livestock Sale supporting 4-H and FFA. He was the founder of the Junior Livestock Support Club which assisted kids during sale time at the fair and sponsored the carcass contest at the conclusion of the fair. Dick organized one of the very first replacement heifer sales, many fairs after this modeled their show off this one. He also served on the California Mid State Fair Board of Directors for 8 years.
Dick served on the SLO Mission High School Board of Education and was the co-founder of the Mission School Memorial Foundation of 1975. This was special to him because his daughters had attended the elementary and junior high school.  It was always his wish that San Luis Obispo also have a Catholic high school.
Surrounded by a devoted family and a loyal community of friends, he remains the consummate cattleman (a fighting Irishman) with a never-ending enthusiasm for life.  Those who were fortunate enough to know him were always greeted with a nickname or endearment.  His no nonsense approach preceded him but a heart of gold and affectionate, charismatic demeanor distinguished him.
Dick was married to Yvonne Gilardi Nock for 65 years.  He is also survived by his daughters, Brandelyn Tronstad (Tom) Marque' Nock Molodanof (Jack) and Bretta Nock, granddaughters, Nicole Tronstad (Adam), Olivia, Sofia, Yvonna; a great grandson Julien, his sister, Patricia Marlo, nieces Kimber Collins, Kami Davis, Bridgit Karo and nephew Jock Marlo….and his herd of cows.
In lieu of flowers and gifts, donations may be sent to a special fund that has been established in Dick's memory for his many contributions to agriculture – the funds generated will be used to honor Dick through the 4-H and FFA Beef Exhibitors at the Mid State Fair in Paso Robles. Donations can be made out to San Luis Obispo County Cattlemen's Association c/o the Dick Nock Memorial Fund, P.O. Box 302, Paso Robles, CA 93447.
A celebration of his life will be planned in early Spring 2021.