LEGISLATIVE BULLETIN
To read the full version each week, please subscribe below.

From Headquarters
CCA Updates in Light of COVID-19 Pandemic
Out of an abundance of caution and in light of Governor Newsom's directive that large gatherings ought to be postponed or canceled to prevent the spread of the COVID-19 virus (including all gatherings of ten or more high-risk individuals), CCA has elected to postpone the Annual Steak & Eggs Breakfast, originally scheduled for Wednesday, March 25 at the Sutter Club.
Circumstances permitting, CCA will re-schedule the event for a later date, likely in late summer or early fall. Stay tuned for future announcements regarding a re-scheduled event.
Meanwhile, the CCA office will remain open for the foreseeable future to serve our members' needs; please continue to reach out to staff with any policy issues or to order your selenium boluses or anaplasmosis vaccines. (Rest assured, though, that CCA staff is implementing CDC guidance and Governor Newsom's directives—including social distancing protocols—to ensure the health and safety of staff).
To ensure members' health, however, CCA staff is temporarily halting travel to events and in-person meetings (instead implementing tele-meetings) in order to promote safe social distancing.
CCA members may also be interested in the following updates on other events in the agricultural world:
Contra-Costa Cattlemen's Meeting, originally scheduled for tonight, has been cancelled.
Inyo-Mono-Alpine Cattlemen's Meeting, originally scheduled for tomorrow night, has been cancelled.
Ag Day at the Capitol, originally scheduled for Wednesday, March 18, has been cancelled.
Kern County Cattlemen's Meeting, originally scheduled for Thursday, March 19, has been cancelled.
Merced-Mariposa Cattlemen's Meeting, originally scheduled for Friday, March 20, has been cancelled.
Sonoma-Marin Cattlemen's Spring Dinner Dance, originally scheduled for Saturday, March 21, has been cancelled.
San Joaquin-Stanislaus Cattlemen's Meeting, originally scheduled for Thursday, March 26, has been cancelled.
The Public Lands Council's and National Cattlemen's Beef Association's Legislative Conference, scheduled for March 30-31 and April 1-2, respectively, have also been cancelled.
California Rangeland Trust's "A Western Affair" celebration, originally scheduled for April 17-18, has been postponed to 2021.
Responses to the COVID-19 virus are fluid; for a constantly-updated list of postponements and cancelations, visit calcattlemen.org/COVID-19 and stay tuned to Legislative Bulletin. Should you have any questions, please contact the CCA office at (916) 444-0845.
Most importantly, CCA urges its members to safeguard their health. CCA recommends following CDC guidance to protect yourself from the COVID-19 virus. Click here to learn more on CDC guidance.
California Lawmakers Adjust to Governing During the COVID-19 Pandemic
On Friday night, State Senate President pro tempore Toni Atkins announced that all Senate hearings previously scheduled for this week have been canceled "in order to focus on an immediate response to" COVID-19; the Senate will still hold regular floor sessions this week.
Assembly Speaker Anthony Rendon, meanwhile, has left the decision whether to cancel or postpone Assembly committee hearings to the individual committee chairs. At least a half-dozen Assembly committee hearings initially scheduled for this week have already been canceled or postponed by committee chairs.
The California Capitol Building was closed to the public over the weekend, and public tours have been cancelled temporarily.
California's regulatory agencies have also been impacted by COVID-19. On Thursday, Governor Gavin Newsom signed an executive order exempting regulatory agencies from the in-person public participation provisions of the Bagley-Keene Open Meeting Act and the Brown Act. Nevertheless, many regulatory agencies have responded by postponing or cancelling upcoming meetings: the California Air Resources Board cancelled a meeting to be held today in Los Angeles, and the State Water Resources Control Board has cancelled all events scheduled for this week, including a Tuesday Board meeting.
The California Coastal Commission held its March meeting last week but may be harder hit by COVID-19 than other regulatory agencies: on Saturday night, Coastal Commission Chair Steve Padilla announced that he had tested positive for the COVID-19 coronavirus just days after chairing a three-day meeting of the Commission. It is unclear to what extent other members of the twelve-voting-member commission—or others in attendance—were exposed to the virus.
California politics and policy are rapidly changing in response to the COVID-19 pandemic, and CCA is actively adjusting to the changing landscape to continue advocating on behalf of the state's beef producers. CCA will keep you updated on the latest developments each Monday in Legislative Bulletin.
Canada Ratifies USMCA, Replacing NAFTA 
Late last week, both houses of the Canadian Parliament voted to ratify the U.S.-Mexico-Canada Agreement (USMCA), the third and final country needed to make the trade agreement official. This historic agreement replaces the 1993 North American Free Trade Agreement (NAFTA).
"Now that the USMCA has been approved by all three countries, a historic new chapter for North American trade has begun," U.S. Trade Representative Robert Lighthizer said.
The agreement faced early opposition in the Canadian Parliament with detractors citing too many concessions to U.S. interests, becoming stuck for several weeks. In light of the recent COVID-19 outbreak, however, and with many Canadian officials sequestering themselves, both houses of parliament moved at lighting-speed to ratify the USMCA before adjourning for the month to stop the spread of the virus.
With all countries in agreement, a timeline for implementation is expected to be announced in the near future. Canada's approval signifies the start of a three-month period for the countries to agree on such an implementation strategy. Once all obligations are met and each country notified, the deal will take full effect approximately 60 days later.
USMCA and its implementation are of particular note to cattlemen, in large part due to the strong percentage of American beef that is exported to Canada and Mexico every year.
CCA will continue to keep you updated as the full implementation of the agreement develops further.
2019 Water Reports Due April 1 for Many Diverters
Under the Emergency Regulation for Measuring and Reporting the Diversion of Water adopted by the State Water Resources Control Board (SWRCB) in 2016, all water rights holders diverting water under a permit, license, registration or certificate must file their 2019 annual use reports by April 1, regardless of the size of those diversions (those filing Statements of Diversion and Use for riparian and pre-1914 rights have until July 1 to file). The reports must be made electronically using the SWRCB's Water Right Form and Survey Submittal Portal. To submit a report, click here.
Failure to file water use reports by April 1 may subject diverters to fines of up to $500 per day.
In previous years, the SWRCB has tenaciously enforced the reporting requirements, sending Notices of Deficiency to thousands of water rights holders who have failed to timely report their diversion and use of water. Those notices threatened non-filers with potential fines of tens of thousands of dollars (calculated using the maximum allowable fine of $500 per day for each day after the filing deadline). While many diverters were able to avoid fines by correcting their error and filing their diversion and use reports, the Notice of Deficiency and threatened fine were an unwelcome surprise for many ranchers. To avoid notices of deficiency and threatened enforcement fines, CCA encourages water rights holders with permits, licenses, registrations or certificates to file as soon as possible, and no later than April 1.
Water Measurement and Reporting Workshops Planned for April 14
On January 1, 2018, CCA-sponsored Assembly Bill 589 became law. This bill allows any water diverter who has completed an instructional course on measurement devices and methods administered by the University of California Cooperative Extension, including passage of a proficiency test, to be considered a qualified individual when installing and maintaining devices or implementing methods of measurement.
The University of California Cooperative Extension is hosting two of these Water Measurement and Reporting Workshops on April 14.
At the workshop attendees will:
Clarify reporting requirements for ranches.
Understand what meters are appropriate for different situations.
Learn how to determine measurement equipment accuracy.
Develop an understanding of measurement weirs.
Learn how to calculate and report volume from flow data.
There will be a limited number of trainings offered in 2020. If you need this training, register soon.
One course will be held at the Shasta College Farm in Redding. If interested in attending, contact Larry Forero (lcforero@ucanr.edu) or Sara Jaimes (sbjaimes@ucanr.edu) or call the Shasta UCCE office at (530) 224-4900. Training will begin at 8:00 am and conclude at 11:30 am. Registration material for the Redding workshop can found here.
The second course will be hosted at the Yolo County Cooperative Extension in Woodland. For more information contact Morgan Doran (mpdoran@ucanr.edu) or call the UCCE office at (530) 666-8143. Training will begin at 2:30 pm and conclude at 5:30 pm. Registration material for the Woodland workshop can be found here.
While no announcements of postponing or otherwise altering these workshops in light of the COVID-19 pandemic have so far been made, if more information becomes available CCA will provide the details in next Monday's update.
Lahontan Water Board to Host Public Workshops on Bacteria Water Quality Objectives
The Lahontan Regional Water Quality Control Board is hosting four staff-led public workshops across the Lahontan region in March regarding the region's Bacteria Water Quality Objectives.
The Lahontan Regional Water Quality Control Board has long had the most stringent bacterial water quality objective in the state: Lahontan regulations require that water samples find no more than 20 colony-forming-units (CFUs) of fecal coliform per 100 milliliters (mL) of water. By contrast, the statewide standard set in 2018 by the State Water Resources Control Board—which measures the specific indicator bacteria E. coli rather than fecal coliform generally—is 100CFU/100mL.
CCA and ranchers throughout the Lahontan region have long challenged the region's onerous bacterial water quality standard. The 20CFU/100mL benchmark was initially intended to safeguard the waters of Lake Tahoe and should not be applied throughout the entirety of the region. The stringent water quality standard is impossible to meet throughout much of the region, creating a regulatory nightmare for ranchers and placing them on an uneven playing field with ranchers elsewhere within the state and elsewhere within the nation.
In February, CCA encouraged ranchers to take the Lahontan Board's Bacteria Water Objectives Survey and report that they favor the statewide E. coli objective of 100CFU/100mL.
CCA now encourages ranchers in the Lahontan region to attend a workshop and share with Regional Board staff, local public health officials, and other subject matter experts why the 20CFU/100mL benchmark should be replaced with the statewide E. coli objective of 100CFU/100mL. The upcoming public workshops are:
Tuesday, March 24, 2020 – 5:30pm, Mojave Water Agency, 13846 Conference Center Drive, Apple Valley, CA 92307
Wednesday, March 25, 2020 – 5:30pm, Tallman Pavilion, Eastern Sierra Tri-County Fair 1234 Sierra Street, Bishop, CA 93514
Thursday, March 26, 2020 – 5:30pm, Lahontan Water Board Annex Hearing Room, 971 Silver Dollar Avenue, South Lake Tahoe, CA 96150
Monday, March 30, 2020 – 5:30pm, Jensen Hall, Lassen County Fair, 195 Russell Avenue, Susanville, CA 96130
For information regarding the Lahontan or State bacterial water quality standards, contact Kirk Wilbur in the CCA office.
While the Lahontan Water Board has not made any announcements considering these hearings, CCA anticipates that they may be postponed or otherwise altered in light of the COVID-19 pandemic. If more information becomes available, CCA will provide details in next Monday's update.
NCBA CEO Colin Woodall Addresses U.S. Beef Supply Chain in Light of COVID-19
On Friday, National Cattlemen's Beef Association CEO Colin Woodall released the following statement regarding the impact of the COVID-19 Coronavirus on the U.S. beef supply chain:
"There is a great deal of uncertainty about the ongoing impact of Coronavirus on the beef industry and the United States as a whole. At this time, it's impossible to measure the full effects of the virus or determine how it may continue to unfold. Although the full beef supply chain is being challenged by the outbreak, all segments of the industry are working closely together and must continue to do so. The current uncertainty facing beef producers is shared by all of agriculture and every American. By working together, we will overcome these obstacles.
"As Coronavirus has spread in the United States, NCBA has been in daily communication with participants from every sector of the beef supply chain. We're working closely with cow-calf producers, stocker operators and feedlots. We're also communicating regularly with packing sector participants, restaurant and retail operations. Every one of these operations is facing unique challenges and many shared burdens. As we continue to work through this crisis, we must do everything in our power to safeguard every sector of the business from disruption while ensuring cattle and beef continue to move in an orderly manner.
"In addition to working within the beef community, NCBA is working closely with Congress, USDA and many other regulatory agencies to remove possible barriers to beef production. Our work in Washington, D.C., will help keep the supply chain full and create the necessary food security required by consumers through the entirety of this event.  Consumer demand for beef remains strong, and producers across the industry remain ready to provide the safe, delicious, high-quality protein that's required and desired around the globe.
"NCBA will continue to work with our members and partners throughout the beef supply chain to facilitate communication. By working together, every segment of the beef community can serve a role in returning the industry to normalcy as quickly as possible."
Get Involved: Help Shape Mountain Lion Policy in Southern California and the Central Coast
As previously reported in Legislative Bulletin, on April 15 the California Fish and Game Commission will consider whether listing mountain lions in Southern California and the Central Coast as a threatened species under the California Endangered Species Act (CESA) "may be warranted," a proposal that CCA is actively opposing on policy and legal grounds.
Additionally, the California Department of Fish and Wildlife has instituted a 'three-strikes' policy for obtaining take permits for mountain lions confirmed to perpetrate depredations of livestock. Under this policy, the Department will only authorize "non-lethal take"—such as hazing and pursuit—the first two times a mountain lion kills or injures livestock, and will not issue a lethal take permit unless one is specifically requested after a third depredation event.
CCA is strenuously opposing these policies, but will be more successful with the assistance of our impacted members.
To help CCA fight the CESA listing petition, CCA staff asks that members write to the Commission and tell them that mountain lions should not be protected under California's Endangered Species Act. The most successful comments will be those that address mountain lion impacts to your ranch and likely impacts that mountain lion protections would have upon your operation. Any information you may have about mountain lion population abundance in Southern California or the Central Coast may also be valuable. CCA encourages you to send your letters to CCA's Kirk Wilbur at kirk@calcattlemen.org or by mail to the CCA office. Letters should be addressed to Eric Sklar, President; California Fish and Game Commission; 1416 9th Street, Room 1320; Sacramento, CA 95814.
To help CCA oppose the 'three-strikes policy,' CCA asks that members: (1) request a depredation permit when mountain lions injure or kill livestock; (2) document your communications with the Department (e.g. whether they deny the permit outright, limit the permit to non-lethal take, delay in issuing the permit, etc.); and (3) communicate those interactions to CCA staff.
For any comments or questions concerning mountain lion policy, contact Kirk Wilbur in the CCA office.
Industry News
'Miracle March': California's Sierra Nevada Pummeled By Feet of Snow The Weather Channel "Heavy snow will continue to pummel California's Sierra Nevada through Tuesday, a "Miracle March" that could replenish vital, water-providing snowpack after a record-dry February." To continue reading, click here.
Cattle market shaken by COVID-19 BEEF Magazine "Livestock Outlook: Supplies of beef and other meat are large and rising as COVID-19 threatens demand." To continue reading, click here.
It took three years, but here's how she got 14,000 McDonald's stores to switch to fresh beef CNN Business "If you've eaten a McDonald's Quarter Pounder recently, you may have noticed that it tastes better than it used to. That's because in spring 2018, McDonald's swapped out frozen beef for fresh beef in most of its quarter-pound burgers in the United States — and the improved product has been a hit." To continue reading, click here.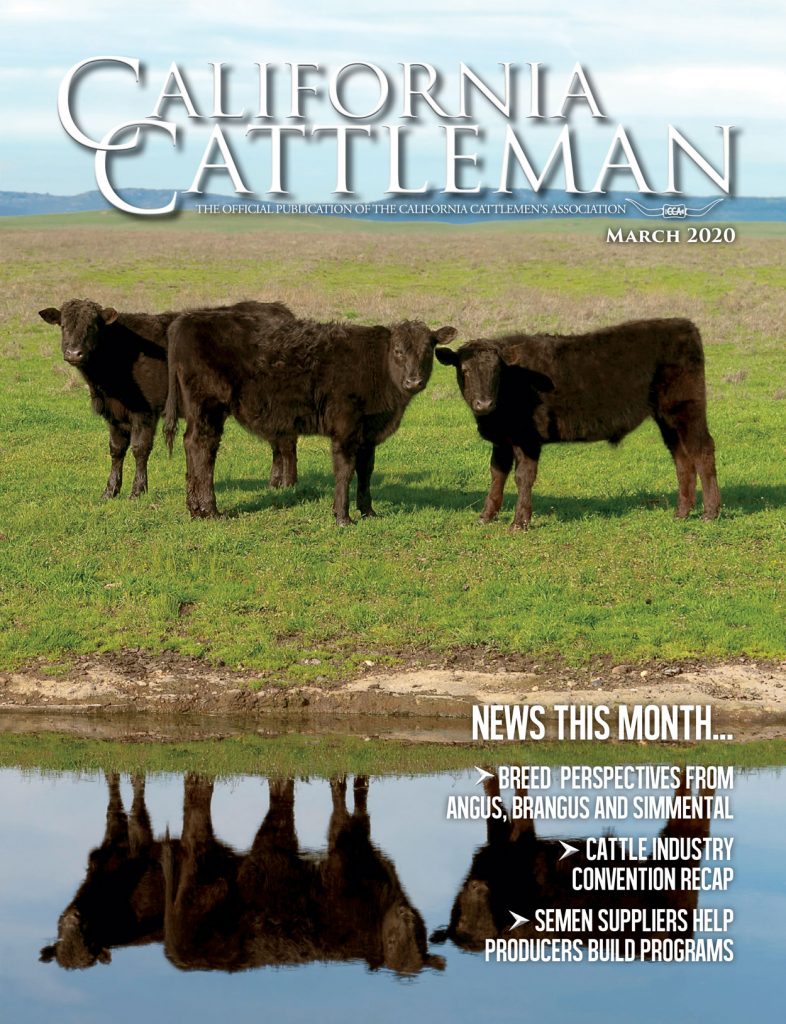 California Cattleman
Click here to read the latest issue!
The Angus breed, in addition to SimAngus, Simmental and Brangus are the focus of this year's March issue. Perspectives from each of these respective breed associations is found in this month's editorial.
Additionally, this issue includes recaps of both the Red Bluff Bull and Gelding Sale and the 2020 California Cattle Industry Convention and NCBA Trade Show.
Sign up to receive Legislative Bulletin in your inbox every Monday