LEGISLATIVE BULLETIN
To read the full version each week, please subscribe below.

From Headquarters
CDFW Expands "Three Strikes" Mountain Lion Policy to Central Coast and Southern California
Last Thursday, the California Department of Fish and Wildlife issued a memo expanding its "three strikes" mountain lion depredation policy to the Central Coast and Southern California regions. The memo makes clear that the policy is in response to the recent petition to list mountain lions in the region as threatened, stating that the policy's geographic extent includes "the full extent of the proposed Southern California and Central Coast [Evolutionarily Significant Unit] boundary as set forth in the petition to list the ESU of mountain lion as threatened under CESA, which was recently filed with the Fish and Game Commission."
 
Under the policy, CDFW will only permit non-lethal "take" of a mountain lion (e.g. pursuit and hazing) after the first and second instances in which a mountain lion is confirmed to have perpetrated a depredation of livestock or domestic animals. Only upon the third confirmed depredation by a mountain lion will CDFW issue a lethal take depredation permit.
 
Beginning in December of 2017, CDFW issued the policy for mountain lions in portions of the Santa Monica Mountains and the Santa Ana Mountains. CCA and other agriculture organizations have challenged the legality of the policy.
 
The memo also declares that "all mountain lion depredation permits within the" region "will require the convening of a Response Guidance Team (RGT) and no final permit decision will be made without RGT/headquarters involvement and approval."
 
The policy does not appear to impact one's ability to take a mountain lion caught in the act of depredation. Fish and Game Code § 4807(a) is clear that "any mountain lions that is encountered while in the act of pursuing, inflicting injury to, or killing livestock, or domestic animals, may be taken immediately by the owner of the property or the owner's employee or agent" so long as the take is reported to CDFW within 72 hours.
 
CCA believes that the three-strike policy is contrary to California law, and is pressing CDFW to reverse the policy. To see CDFW's memo (including a map of the policy's geographic boundaries), click here.
GET INVOLVED: Tell Fish & Game Commission Not to List Mountain Lions as Threatened
Last week, the California Fish and Game Commission revealed that it has received more than 4,500 comments in favor of a petition to list mountain lions as threatened throughout the Central Coast and Southern California.
Most of those 4,500 comments likely came from supporters of the Center for Biological Diversity, which on February 7 emailed its vast network of contacts asking them to "Tell the California Fish and Game Commission…It must grant these mountain lions protection under the state's Endangered Species Act."
While CCA has vocally opposed the petition, to ensure that CBD's vocal members do not drown out ranchers' voices it is essential that ranchers write to the Commission and tell them that mountain lions should not be protected under California's Endangered Species Act. The most successful comments will be those that address mountain lion impacts to your ranch and likely impacts that mountain lion protections would have upon your operation. Any information you may have about mountain lion population abundance in Southern California or the Central Coast may also be valuable.
Comments can be delivered to CCA's Kirk Wilbur at kirk@calcattlemen.org or by mail to the CCA office. Letters should be addressed to Eric Sklar, President; California Fish and Game Commission; 1416 9th Street, Room 1320; Sacramento, CA 95814. All letters received will be submitted to the Fish & Game Commission prior to a future hearing on the mountain lion petition.
CDFA's Healthy Soils Program Now Accepting Applications
The California Department of Food and Agriculture (CDFA) is now accepting applications for the Healthy Soils Program (HSP), a program with the goals to build soil organic carbon and reduce atmospheric greenhouse gases.
More details about the HSP Incentive Program are outlined below.
Grants pay up to $100,000 over three years

Provides funding available to implement soil management and vegetative practices on farms and rangeland

Follows NRCS practice guidelines

Provides funding with no cost-sharing required
To learn more about the HSP, attend the Upcoming Technical Assistance Workshop on March 5th at McCay Hall in Cathy's Valley. Please send RSVPs for the workshop to ecromer@pointblue.org.
To learn more about the program and the event, click here.
ACT NOW: Lahontan Water Board's Bacteria Water Quality Objectives Survey Ends 2/23
The Lahontan Regional Water Quality Control Board has long had the most stringent bacterial water quality objective in the state: Lahontan regulations require that water samples find no more than 20 colony-forming-units (CFUs)of fecal coliform per 100 milliliters (mL) of water. By contrast, the statewide standard set in 2018 by the State Water Resources Control Board—which measures the specific indicator bacteria E. coli rather than fecal coliform generally—is 100CFU/100mL.
CCA and ranchers throughout the Lahontan region have long challenged the region's onerous bacterial water quality standard. The 20CFU/100mL benchmark was initially intended to safeguard the waters of Lake Tahoe and should not be applied throughout the entirety of the region. The stringent water quality standard is impossible to meet throughout much of the region, create a regulatory nightmare for ranchers and placing them on an uneven playing field with ranchers elsewhere within the state and elsewhere within the nation.
The Lahontan Regional Water Quality Control Board has committed to reevaluate its bacterial water quality objectives in 2020, and is soliciting feedback from the public via a survey, available here. The 10-question survey takes only 3-5 minutes to complete, and CCA urges ranchers—both inside and outside the Lahontan region—to complete the survey.
Most importantly, CCA suggests that ranchers answer Question 6, "Given the choice, would you favor the current Lahontan Region fecal coliform objective of 20CFU/100mL or the statewide E. coli objective of 100CFU/100mL?" with the second option, "I favor the statewide E. coli objective."
The survey will be available until Sunday, February 23 at 5.00pm.
Industry News
State officials see merit in extra protections for Southern California mountain lions Los Angeles Times  "State officials on Wednesday concluded that several cougar clans in Central and Southern California may warrant listing as threatened under the state Endangered Species Act, a step that could limit highway construction and development on thousands of acres of real estate." To continue reading, click here.
UCCE to study livestock impact on fire fuel reduction Benitolink  "Thanks to generous support from the newly formed California Cattle Council, our San Benito County UC Cooperative Extension (UCCE) Livestock & Natural Resources Advisor will lead a new study to estimate how much fuel livestock consume across California and whether grazing decreases wildfire speed and intensity." To continue reading, click here.
BQA positively influences consumer confidence in beef BEEF Magazine  "Consumers are saying they want to know more about how their food is produced. As the beef industry strives to meet their needs, one of the most effective ways to accomplish this is to learn more about the consumer and especially their preferences when it comes to animal care and well-being." To continue reading, click here.
Bureau of Land Management to fund 11,000 miles of fuel breaks The Columbian  "The Bureau of Land Management has announced plans to fund 11,000 miles of strategic fuel breaks in Idaho, Oregon, Washington, California, Nevada and Utah in an effort to help control wildfires." To continue reading, click here.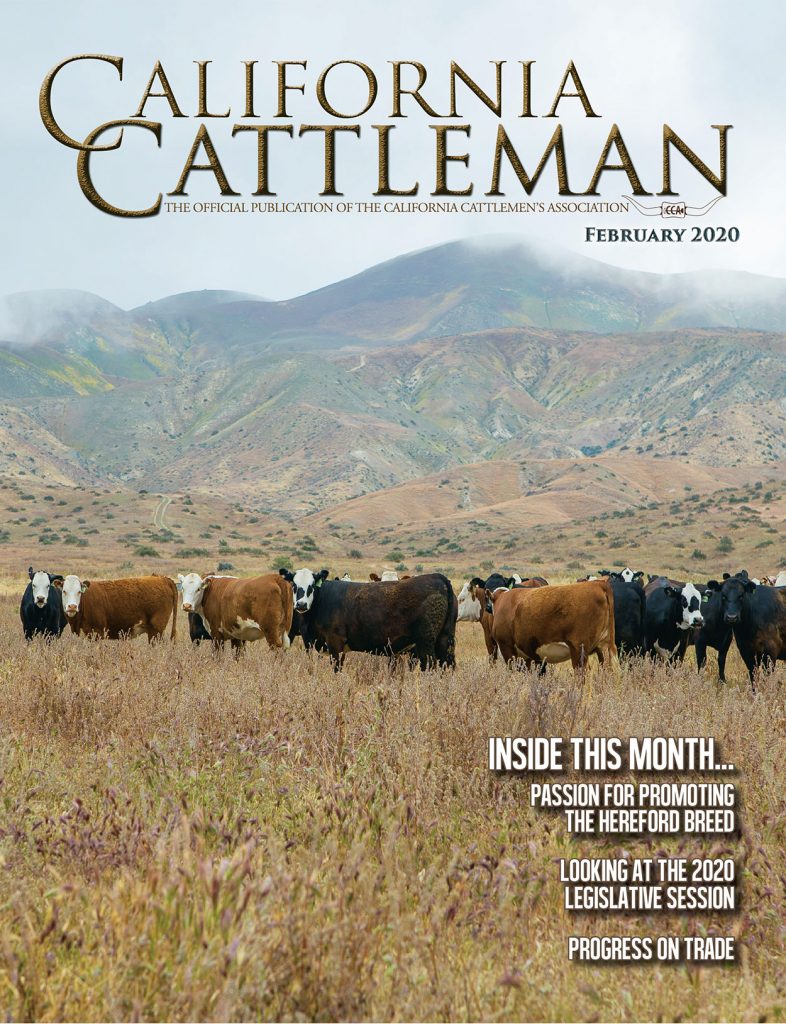 California Cattleman
Click here to read the latest issue!
Happy February! Love is in air—at least it is for the Hereford and Beefmaster breeds in this February issue of the California Cattleman. As it has in past years, this month's issue focusing on highlighting these breeds and well as the leaders in them.
Sign up to receive Legislative Bulletin in your inbox every Monday